Pros and Cons of Contact Tracing
Carter Rambousek, Reporter
October 20, 2020 • No Comments
Having schools open during a global pandemic is risky, but certain things have been put into place to try and keep students in school. Social distancing, masks and contact tracing all play a big role in keeping us in school. They all protect us from Covid-19 and help stop the spread of the virus if someone does have it.  School nurse, Beth Broderick, thinks it is necessary...
Students earn cash with a splash of fun
Jamie Vondra, Associate Editor
October 20, 2020 • No Comments
For many, a job is not a fun task, but something that has to be done. Well, why not work somewhere more suitable to your personality? Various students have found jobs that keep them interested and could even be described as enjoyable. The tourist town of Galena, Illinois, offers many interesting job opportunities. One of these is Galena on the Fly, a unique tourist...
Caroline Hutchinson, Reporter
September 25, 2020 • No Comments
When it comes to lunch, there's usually not much to it. Students either take cold lunch or hot lunch. More recently, many students have been switching things up and bringing in some new lunch boxes. While some people stick with the basics, some choose to go for funny ones like cartoons or animals.  One student is Allie Kutsch, '21. "My lunch box is of my...
A day in the life of a ski racer
Claire Walker, Reporter
February 28, 2020 • No Comments
Ski racing is a sport that not many people do or know about. Most of the time when people hear about it they ask, "Don't you just have to go down the hill fast?" Although that is part of it, there is so much more to the sport and people participating in it. It all starts at 6 a.m. when a racer has to wake up and get ready. Many things are necessary for race...
Sep 12 / Varsity Volleyball

Beckman Catholic (Dyersville)

2

Sep 12 / Varsity Volleyball

Cedar Rapids Washington

0

Sep 12 / Varsity Volleyball

Sep 12 / Varsity Volleyball

Sep 11 / Sophomore Football
Which upcoming Disney movie are you most excited for?
Toy Story 4 (45%, 10 Votes)
The Lion King (Live Action) (23%, 5 Votes)
Aladdin (Live Action) (18%, 4 Votes)
Dumbo (Live Action) (14%, 3 Votes)
Total Voters: 22

Loading ...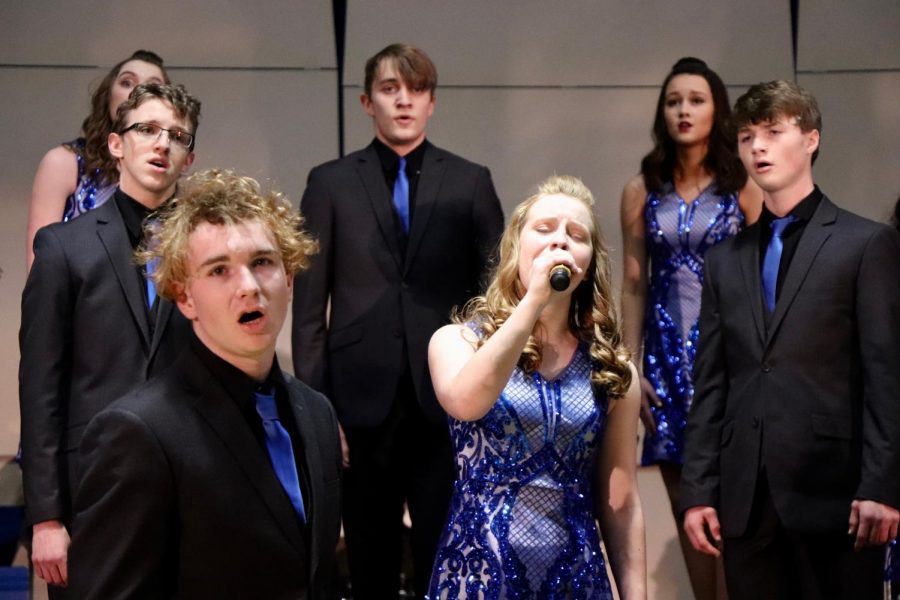 Maddie Roling, Editor
February 10, 2020 • No Comments
There is no doubt that winning a show choir competition looks different than winning a basketball game. Between performing, playing music, or managing behind the scenes, lots...