Impulse dances into the Show Choir season
After many years of successful performances in competitions, Wahlert's show choir is undergoing significant changes this year. 
"It's crazy because Wahlert's first show choir program was originally called swing choir, and it was not competitive. It wasn't until the 2000's that Wahlert decided to change from swing choir to a competitive show choir. It started out very humble, and then we started to place," said Ms. Amy Pham, the show choir director.
With a new director, there are, of course, changes."This year's show choir is bringing a change, which is unusual for Wahlert. For example, we have a new teacher so her idea is to have something new and fresh, like the costumes," Kylie Schmidt, '23, said.
"I really want the judges to see how much we have changed. We transitioned away from the sequined dresses and into a more modern style dress. We plan to have the singers dress like teenagers rather than sparkly. Also, I took away the heels because they are uncomfortable. Sneakers are our new dance shoe," said Ms. Pham.
Another big change for the show choir is the new roles being created. 
"Being a dance captain brings a whole new perspective to the show. I get to make decisions that are best for the group instead of just being told what to do," Schmidt said.
"We also have a new show band director this year and he's doing an excellent job. The music is amazing, and the kids have been showing a lot of passion and thought in everything they've been doing," said Ms. Pham. 
Along with the good things that have been happening in show choir, there have also been some challenges. 
"One of the challenges for me is getting the dancing part down," Lily Tuthill, '26, said.
 "Right now, we don't have many boys in show choir, or we don't have our boy song like we used to," William Grommet, '24, said. 
"The biggest challenge for us is honestly just waiting for competition season in January. Leading up to then feels so far away, and then all of a sudden it isn't," Ms. Pham said.
Even with the changes that have happened in show choir, hopefully the team can have a successful outcome at their competition in January. "One thing I want to accomplish would be placing because it would make me feel better as a first year show choir director," Pham said.
Leave a Comment
About the Contributor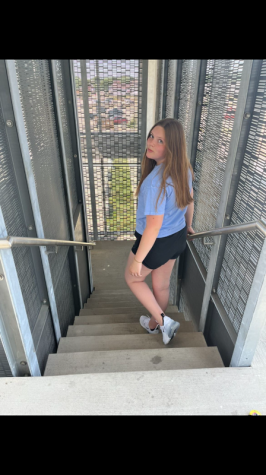 Hannah Hartman
Hannah Hartman is a sophomore at Wahlert Catholic High School. She is a reporter for the Gleaner. Hannah loves to bake, go shopping, and hangout with her...