New Classes Bring On Bigger Impacts
As the school years progress, Wahlert  continues to gear their course options towards the interest of students. Most recently, Wahlert has incorporated a service learning class to try to get students passionate about serving the community.
Ms. Haley Martin, the teacher who created this class, shares why she implemented it. "Two years ago I did an independent study with a student and as part of it, we did a service component. It really opened my eyes that there are opportunities that I think kids would do. 
"Last year I started an interactive pen pal project between some kids in my class and St. Mark's, and I saw how beautiful that was. So, I reached out to Ms. Reeves about starting this course, and she said I could do it. I then reached out to some of my students to see if they would be interested, and many said yes."
This class has made an impact on many. "We have impacted different parts of the community. What we do most is spend time with those kids who need more love and affection. Being there for others has been our biggest impact," said Lydia Foy, '23.
This type of impact was exactly Martin's goal. "I see a lot of beauty in the world, but I also see a lot of hate in the world. If we can do little things, I think that's great and in this class we can," said Martin.  
Martin's class not only impacted the community but her own students as well. "During my time at Wahlert, a bunch of the service we have done differs from what we do in the service learning class. It has really opened my eyes to how many children in our own community struggle with basic needs and just how much of that we are blind to," said Will Coohey, '23.  
Each day in the class differs from the other, and it's given the students many memories.  "My favorite thing has been having mentees in a fifth grade class at Audubon Elementary," said Foy.  
Coohey agrees. "I enjoy getting to see the smile on all the kids' faces when we show up to play games and just be with them," said Coohey. 
The service learning class has helped reshape the perspectives of many Wahlert students.
"Us students at Wahlert have a lot of opportunities that others don't, so it is good to go out and help people who don't have as much privilege as us and try to make a difference in their lives," said Ryan Brosius, '23. 
highly recommends students to take this course, "It is pretty rewarding. When we go out to the community, you just feel good."
Martin hopes that every student who takes this class feels a lasting impact. "I hope they see the world's bigger than them and that in order to serve and do good in the world, you don't have to go anywhere other than your own community. I hope they see that they are privileged and that they learn that they can make a difference now and these students see that they matter." 
Leave a Comment
About the Contributor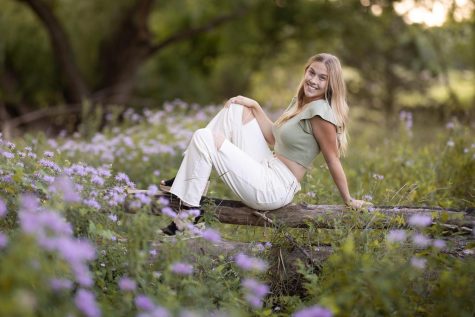 Mia Brooner, Reporter
Mia Brooner is a senior at Wahlert High School. She is part of the swim and soccer team and is involved in the National Honors Society. In her free time...