Chapman tries a college production
To get a jump start on his college major, Josh Chapman, '23, took on a role in the University of Dubuque's fall production of Noises Off as Tim the stage manager. Josh has been in many productions at Wahlert such as the Bird in A Year with Frog and Toad, The Dentist in Little Shop of Horrors, and Will Bloom in Big Fish, but this was an opportunity he couldn't pass up.
"I didn't actually audition for this play. Because of the dual enrollment program that Wahlert has with the University of Dubuque, I was able to take a theater class at the university. When I emailed someone about class information, the director of the show was linked in that email, and he was like, 'Hey, you are a person who likes theater. Do you want to do our show?' At that point the show was still undercast, so there were still roles open, and because I was a high school student and he didn't know my ability, he gave me the role of Tim, which is a smaller role." 
Noises Off is a play about a theater production (a show within a show) called Nothing On, which is a British comedy farce. A British farce is a particular style in theater that aims to entertain the audience through situations that are highly exaggerated, ridiculous and absurd. Throughout the show, a second-rate company of British actors rehearses for a show, and lots of backstage chaos takes place during the performance of Nothing On. Meanwhile, in the on-stage performance, everything goes wrong.
"I do have a smaller role in the show, so a lot of it has been about really learning to just not throw that away. Even though it is a smaller role, you still have to perform just as well and give it 100 percent as everyone else in the cast would," said Chapman.
Chapman appreciates this unique learning opportunity and recognizes how the show has impacted him to continue this passion into the future. 
 "I really like it a lot; it is probably the best theater experience I've ever had. The play is a lot of fun, and it is a really great learning opportunity for me as a 'student of acting' as my director calls it. So that is why I decided to do the show, not because I don't love Wahlert theater, but because this is something that I want to do in college and I thought that doing a college show before I go to college would be a great experience for me."
Noises Off just had its final performance Nov. 17.
Leave a Comment
About the Contributor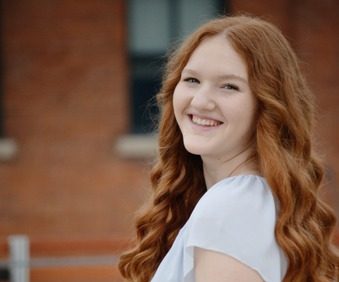 Erin King, Editor
Erin King is a Junior at Wahlert Catholic High School, and an editor for the Wahlert Gleaner. She is involved in the Marching Band, Concert Band, Theater,...