Wimpy Kid adaptation falls short
In 2010, 2011, and 2012 a trilogy of films came out based on a series of books by author Jeff Kinney. Diary of a Wimpy Kid is a series many kids have read for English projects. The series started in 2007 and quickly gained popularity; in 2009, Jeff Kinney was on Time's 100 people of the year list.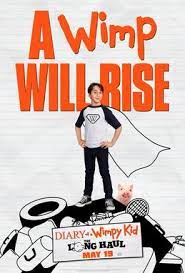 In 2010, a film adaptation of the first book was released with a spectacular cast that each played their characters very well:
 Zachary Gordon as the main character Greg Heffley, Robert Capron as Rowley Jefferson (Greg's best friend), Steve Zahn as Frank (Greg's father), and last but certainly not least Devon Bostick as Rodrick Heffley, Greg's older brother and best part of the films.
"Rodrick (Bostick) made the movies work. He was that bully older brother shown in the books," Wimpy Kid enjoyer Noah Ripperger, '23, said.
The fourth movie was "based" on the ninth book in the series The Long Haul. Many changes had to be made primarily in the cast. Since the movie came out in 2017, most of the cast from the original trio of movies had grown too old to play their characters. 
This has been widely regarded by the fanbase as a bad decision. Former student Jacob Padilla, '22, had a lot to say about this. 
"First off, Rodrick. Who in their right mind thought that the 'redesign' was a good idea? Charlie Wright is not my Rodrick. He is but a failed attempt at trying to mimic Devon Bostick's perfect portrayal of Rodrick," said Padilla.
Another big change made for the film was the plot. In the book, the main plot is the Heffley family is going on a road trip to nowhere in particular and then it devolves into chaos.
In the movie, the family is going to "Meemaw's" for her 90th birthday. During the trip there, Greg becomes a meme and wants to go to a convention for his favorite Youtuber.
The movie even brought about its own meme because of the casting and design choices made. Charlie Wright's portrayal of Rodrick brought about the hashtag "#NOTMYRODRICK" in reference to fans' mass preference for Bostick's version of the character of Rodrick. 
The design choice for Rodrick in The Long Haul is not the punk rocker that is described in the books. As well as what is shown in Devon Bostick's portrayal of the character.
Charlie Wright's portrayal of Rodrick not only differs in appearance but in personality. Bostick's portrayal as Rodrick is more of the punk rock, bully older brother while Wright's portrayal is more whiney and less like his character in the book.
The film adaptation met poor feedback from critics and fans alike and  scored a 4.3 on IMDb, a 39 on Metacritic, and 18% on Rotten Tomatoes.
"This movie is hot-steaming garbage. It's a miracle that Jeff Kinney even allowed the script to be let out of the writers' room. I give it 10%. Do not watch this movie if you like Diary of a Wimpy Kid," said Padilla.
Leave a Comment