Meyers moves on, leaves mems
By Grace Stelpflug 
Of the Gleaner
For the past 12 years, Wahlert has been under the leadership of Principal Ron Meyers. During his time here, the Kairos retreat began, the school underwent multiple renovations, personalized learning began, and Meyers introduced hundreds of families to Wahlert Catholic. 
Throughout these years, Meyers has had many experiences  that have made him love working at this school. 
"I've enjoyed having the opportunity to be around, to meet, to enjoy, to suffer with, all the students that have come through here these past 12 years," said Meyers.  
Looking back, Meyers always had a passion for being a good leader. Upon becoming a principal, he knew what he wanted to do. 
"I wanted to lead others and to share my ideas. I enjoy being the person that can get the task done. Looking back, I would have done things differently, but I have gained so much from my time here." 
As the leader at this school, he recognizes some of the things that he has gained. One thing he has gained is a new side to his personality. 
"My personality is very different from who I am as a principal. I am an introvert, but this job has made me become more of an extrovert. This job has given me the opportunity to be the best of both worlds."
As Meyers' role here comes to an end, he reminscises on the things he will miss most. 
"I'm going to miss how normal this job has become to me. I think I'm going to miss decision-making as much as I won't. I'm going to miss the ability to lead others." he says.
For now, Meyers does not  have a set plan for retirement, but he is looking forward to the ability to disconnect.
 "The unknown is coming at me. I don't know where life is going to lead me. Kind of scary but kind of exciting," says Meyers.
With Meyers now leaving, some teachers recall their shared bonds. 
Brother Gee said, "I'm going to miss his presence and his energy. He has had such a positive impact on this school, and I think that this school will forever be grateful for him." 
"When I first met Mr. Meyers, he seemed like a principal that was really student-centered. He was strict, but at the same time he was a friendly voice to those who needed it," said Mr. Ehrmann. 
Ms. Barb Ressler recalls, "One of my favorite memories of Mr. Meyers was during teacher appreciation week. We were all at home, due to Covid, and he came to visit all the teachers in an eagle costume to thank us for our work." 
Ms. Bailey Petersen wishes him luck in his future endeavors.  "I'm excited for him to have the ability to research new opportunities and spend more time with his family." 
With all being said and done, Mr. Meyers wanted to wish Wahlert and everyone involved one more thing: 
"I want Wahlert to change for the better, but I hope it never loses its integrity. I want people to feel good about the impact that they are making on this world. I hope people keep an open mind because you never know where life will take you."
Leave a Comment
About the Contributor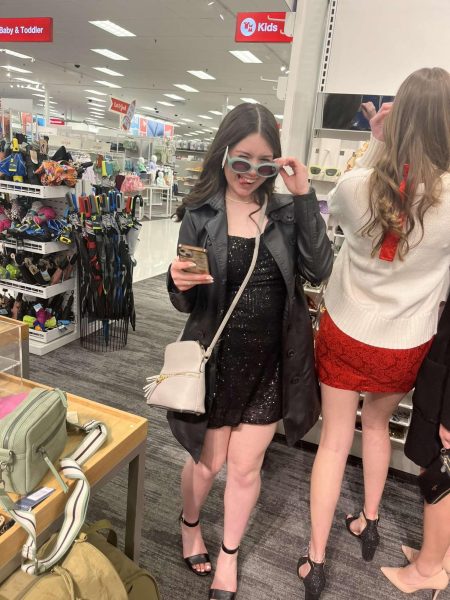 Grace Stelpflug, Reporter
Grace Stelpflug is a junior at Wahlert Catholic High School. She is an editor for the Gleaner Newspaper. She is interested in dance and baking. She likes...