Dancing despite diabetes
Lilly Bonnet, '24, started dancing at the age of just 2 years old. 
While walking around the Kids Expo at the Grand River Event Center, Bonnet saw dancers on the stage, and she told her mom that she wanted to go up there and dance with them. 
"Obviously, I wasn't allowed to go up there and dance with them, so I got pretty mad at my mom when she told me I couldn't but that's when my mom knew to put me in dance to try it out," said Bonnet. 
At the age of three, Bonnet was enrolled at Studio 5678 in Asbury, Iowa. After her first year of dance, her mom knew that this was going to be a passion of Bonnet's, and it turned out to be that way until she was 12 years old. 
In 2018, Bonnet was diagnosed with type 1 diabetes, which was a whole shock to her and her family. It started with her mom noticing symptoms of diabetes including Lilly feeling nauseous 24/7, being really thirsty, and having little to no energy all the time. 
After noticing all of these symptoms, they thought that it would be a good idea to go to the doctor, and sure enough that's when they found out. 
"When I found out it was hard because I automatically assumed that I wouldn't be able to dance and participate as much. Also, I thought that I would be held back from the thing I most loved."
Fortunately, that was not true. Yet, to this day, there are times that she has to be careful when her blood sugar is low.
"There are times when I am at practice, and I physically can't dance because my blood sugar gets low. It's hard because I wanna dance, but I know I can't because it wouldn't be good for me," said Bonnet.
When performing at dance competitions, there have been times she has had to push off solos to a later time or group dances back because her blood sugar was low and she couldn't compete.
"I remember a time in eighth grade when I was about to go on stage and perform, but my blood sugar was low so we had to push the group dance back 30 minutes till my blood sugars were good," said Bonnet.
Despite these challenges,  Bonnet has continued to develop her passion for dance, practicing 9-10 hours a week between Wahlert dance team and studio dance (vibe dance company). Bonnet has made many memories  in her dance career, but one stands out the most.
"Last year when the Wahlert dance team was at Stack the Stands, we ended up placing first. That was for sure a special moment. It was just an amazing moment because we had never gotten first as a team, so it was definitely a memorable moment."
Leave a Comment
About the Contributor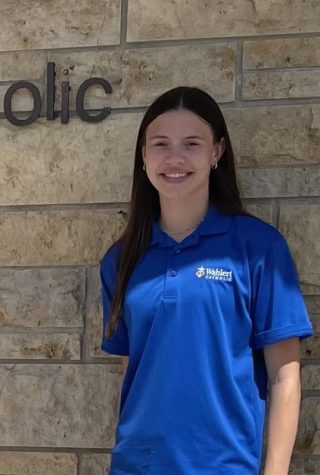 Annie Elbert, Reporter
Annie Elbert is a sophomore at Wahlert Catholic High School. As a sophomore she participates in the volleyball, tennis, and dance team. Annie loves to...