The privilege of the underprivileged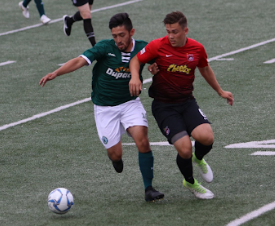 Imagine a speeding ticket causing your life to be uprooted. Imagine living with the constant fear of losing your family members. Imagine not being eligible for federal student aid for college and having to pay completely out of pocket. Imagine having to keep your nose clean at all times; no parties, no vacations, just hard work.
The life of a DACA recipient, or Dreamer, can be tough. DACA, or Deferred Action for Childhood Arrival, is an Obama Era social program that allows children of illegal immigrants who were brought to the U.S. without a choice, to obtain temporary and renewable legal status in the United States.
In the present political climate, people tend to group or stereotype immigrants in derogatory and unflattering ways such as "alien, predator, criminal, lazy" and so on. The reality is that there are far more immigrants, such as dreamers, that are hard-working, moral, and inspiring individuals that more people should emulate. A shining example of this is Raudel Fierro, a close friend, Dreamer, and student athlete at Loras College.
"The truth is that we embrace being immigrants. We do not want to be American. We want to be Mexican-American and remind people that this country originally built by people that escaped systemic oppression. That comes with embracing our identity," said Fierro.
Raudel came to the states as a toddler and the U.S. is all he has ever known as home. His family settled in West Liberty, Iowa, but his father was deported by ICE authorities a few years after they settled down. His life has certainly been different than that of his teammates on the Loras soccer team. For instance, when the team took a trip to play exhibition matches in Costa Rica, Fierro had to stay behind due to the risk of being denied re-entry into the states.
Even more significant is the reality that Raudel must keep a spotless record. Rather than filling up his time with parties or other stereotypical aspects of the "college experience," he fills it with diligent studying, multiple jobs, and whatever sleep he can fit in between. His daily routine would make most grown adults want to take a nap, but it is business as usual for Fierro.
"When I see someone complaining about their bank account running dry, or having to go to an early class, it can be hard for me not to speak up because the things others take for granted are actually quite valuable," he explained.
Fierro's strict lifestyle is not always ideal, but he keeps a positive attitude.
"I see my struggles as the privilege of the underprivileged. It speaks to the struggles that have shaped me into who I am today. I know that I am still privileged because I have access to something that millions of people do not have," said Fierro.
Fierro has never let adversity define him. In fact, he is one of my greatest role models in that he lives with both an intensity and joy for life. He is a fierce supporter of those close to him and brings a passion to all he does that is rare for most people. That is why I am so angered when people are prejudiced and label immigrants or persons of color in general as "lazy, unmotivated, or threatening to society."
Raudel and so many others do not fit that mold, and in fact, they are much harder working than most people I have come across. My hope for the world is that more people take time to listen to the stories of others before believing societal stereotypes.