Secrets out: Underclassmen and Upperclassmen crushes
Love is an interesting word. Sometimes the love of your life can possibly be waiting for you right on the corner, and on other occasions… Well, love is blind. 
High school love stories sometimes are a big secret, and high schoolers will never tell anyone because of the age gap. With Valentine's Day coming up soon, The Gleaner is revealing some underclassmen and upperclassmen crushes. 
For instance, Drew Kirby, '25, crushes on Leah Park, '23. 
"She is so kind and caring," said Kirby. 
Park was surprised when we told her that Kirby had a crush on her. 
She responded, "He is nice, but reminds me of his sister." 
Apparently, not all love stories end happily. Kirby, '26, got rejected by Park, '23. She added, "It is not me; it is you."
In another revelation, Ella Kelleher, '23, admitted her crush is freshman Brendan Fitzgerald, '26. 
"He is cute, and he is taller than me," said Kelleher. Fitzgerald was kind of shocked at first "but not surprised," he added. He said that if he had to choose someone to be his crush, he would choose her, too. 
Fitzgerald said, "I like her hair. It looks pretty cool. It is a pretty brown." 
Jonah Oberfoell, '25, confessed his crush is Tatum Manternach, '23.
 "She is super kind to me," said Oberfoell.
Manternach was really thankful and surprised at the same time. 
She responded, "He is a sweety; he is so cute". 
Most of the time
question "Who is your upperclassman or underclassman crush?" made students become shy, and the situation turned somehow awkward. 
But clearly, there is no reason to be timid about it. In a school of around 450, classmates are bound to crush on one another while walking in the hallway or studying together in class, crossing grade lines. 
Leave a Comment
About the Writer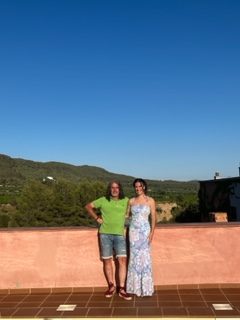 Julia Altes, Reporter
Julia Altes is a junior at Wahlert and she is an exchange student from Spain. In her free time she enjoys playing the piano, singing, and dancing. She...