Once you're released from prison, are you ever really free?
One man's journey towards restorative justice
Born on the South Side of Chicago, Caprice Jones was a boy who could be described as brilliant from the beginning. At just six years old, he received an offer to the University of Chicago Lab school. Despite his smarts, Jones was faced with a whirlwind of challenges at an early age that caused him to spiral downward. He became involved in the Chicago crime scene and spent 15 years in prison.
It was during these years that he began a journey of self-discovery. He developed a love for poetry which led him to write three Spoken Word books. Jones reacquired an appreciation for the importance of education. He began to grow his faith and witness for God, even in the darkest time of his life.  eyr6wz
Shortly after his release from prison, Caprice began his mission to make a difference in the world. He went on to create a movement entitled, "I Must Be the Change I Seek to See In Chicago." 
Eventually, the Jones family sought a better life in eastern Iowa. It was there that Caprice received a calling to share his light with the community. From this, came the Fountain of Youth program. 
The program seeks to eradicate generational poverty and keep people from a life of crime. Caprice looks to the youth as being the future, the future of Dubuque, Iowa, the future of all mankind.
Today, Jones holds an Associate's degree in Liberal Studies from Lakeland College. In addition, he has logged thousands of hours of substance abuse training through Cornell Intervention. 
What life experiences have shaped you into who you are today? 
"My experiences of being born into generational poverty. Being born into, what I just learned recently are ghetto-specific behaviors. It shaped me into understanding humility. Growing up in those types of environments and conditions, you think it's all about survival. I've learned that through time if you continue to live, you have to understand the difference between surviving and just existing." 
It is obvious that from your early childhood on, you were an intelligent young boy. What do you feel often leads young people into a life of crime? 
"I believe that one major factor is a lack of self-discipline. Another is the things inside of them that they're attracted to. If they get exposed to those particular things, it may lead them down a whirl of trouble. It also may make them believe that life is not worth living. When you are chasing things for temporary satisfaction, those things come and go. With self-discipline, a person can learn the difference between a moment and a movement."
Your program stands as a beacon for change. What causes people you work with to become stuck? 
"I believe a lot of individuals become stuck by settling for less, thinking it's the best. It is based on your mindset. A lot of things attached to generational poverty aren't just external, but internal. People living this lifestyle give up on themselves so easily. They don't even try. They give into whatever comes their way that is easy."
How and in what way are people able to bring about change in their lives?
"I believe that they can change by practicing personal development. Learning about emotional intelligence. Self-awareness, self-discipline, self-management, self-motivation. All of those different things could help an individual to start tapping into what humanity truly means. When you grow up into generational poverty, a lot of times, you start to believe that the life you are surrounded by is normal. The thing is, it's not normal for a human to not even know they're human. For so many years, I never even knew I was a human being because I never took the time to think about that. I was in survival mode, thinking about the next thing that could make me happy despite the storms I was facing. Once I tapped into my humanity, I had feelings. I had regrets. I had emotions. I began to embrace the thing I had been constantly running from – my humanity."
Leave a Comment
About the Writer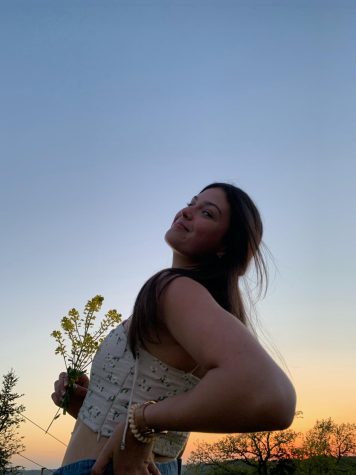 Izzy Ungs, Co-Editor-in-Chief
Izzy is a junior at Wahlert and she has been in Gleaner for two semesters. She enjoys dancing, hanging out with friends, trying new foods, and traveling.