Eagles on ice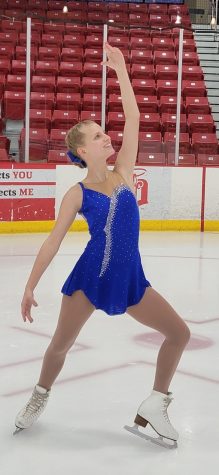 For most people, ice is something that they don't give much thought to, except when it comes in the winter and finally leaves in the spring. A couple students, though, are quite comfortable around ice. For Natalie Kuhle and Bridget Markham, both '25, ice has a special place in their hearts since they are both figure skaters.
Kuhle began skating early. "I've been ice skating for about nine years. I started when I was six. My parents put me in the Learn to Skate program, so I was just learning for fun, and then I started doing it competitively," said Kuhle.  Kuhle's hobby has turned into a lifelong passion.
Meanwhile, Markham has only started skating somewhat recently. "I've been skating for three or four years. I started with a friend, and I ended up just growing to like it a lot," said Markham. Regardless of the short amount of time she has been skating, Markham still sees figure skating as an important part of her life.
Figure skating has a lot to like, from the challenges to the people you meet. Kuhle said, "I like that I can compete against myself, and that I can see the improvement in just one week and how much I can improve."
Markham paints a different picture of what she enjoys about figure skating. "There's a lot of nice people and good coaches. I learn new skills, too," Markham said.
Kuhle advises those interested in doing figure skating "…to just go  to the public skate. They have it every weekend. Just go and see if you like it because no one's judging you, and you can just go and have fun," she said.
Markham notes, "It's going to be really hard at first because you'll fall a lot, but over time you'll be good because you'll learn more skills, and you'll make good friends."
Overall, figure skating is something that could be very enjoyable. As Kuhle said, "Figure skating is something that I definitely recommend because it's something I enjoy so much, and I think other people don't understand how much fun it is."
Leave a Comment
About the Contributor

Alena Brimeyer, Reporter
Alena Brimeyer is a freshman at Wahlert Catholic High School. She enjoys watching movies, spending time with her family, and playing with her three rabbits....