Celine inspires Rambousek
Many would say that an iconic, once-in-a-lifetime performance occurred on March 2, 2019. On that day Michael Rambousek, '19, won the solo competition in Holmen, Wisconsin, with his performance of "It's All Coming Back to Me Now" by Céline Dion.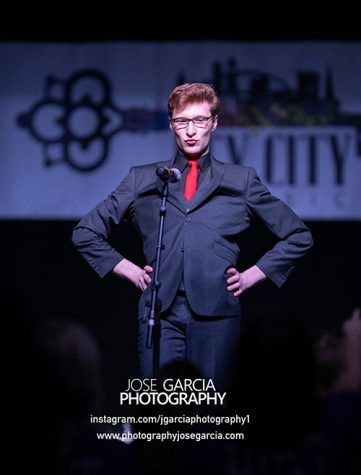 Part of Rambousek's ambition to perform a Céline song was because the judges did not fully appreciate his song choice the previous year. He wanted to show them what his full potential really was.
"I love Céline Dion. All of the song lyrics apply to one of my friends, and I really wanted to perform a dramatic Céline song for the competition," said Rambousek.
If you missed his performance, you have another chance to see Rambousek in the upcoming musical, The Addams Family. He is playing the role of Uncle Fester.
"I didn't know much about The Addams Family," says Rambousek, "but I was told there's an uncle who acts insane and has a very outgoing personality. I thought to myself, 'Well, if that doesn't sound like me then I don't know what does!'"
So whether he's singing Céline Dion's praises or her music, Michael is not afraid to show his true self.
Rambousek says, "I love being me. A lot of other people are fake and concerned about what others think about them, and I just don't care. Haters gonna hate."
Leave a Comment
About the Contributor
Jamie Vondra, Editor
Jamie Vondra is a senior at Wahlert and an editor on The Gleaner. Vondra is involved in volleyball, bowling, and golf at Wahlert. Jamie enjoys creating...