Traveling with a sense of normalcy
Do you enjoy traveling? Whether it's traveling by car or plane, 1.4 billion people choose to travel each year in the United States . Since Covid-19 cases and hospitalizations have decreased, many more people are traveling. "I went to Colorado after many Covid restrictions were lifted, but you still had to wear a mask inside most places. It was weird seeing everyone wearing masks, but the trip was a good experience," Azelle Sumpter, '26, said. 
Emilia Borelli, '26, and her family decided to travel by car to Canada. "I went to Niagara Falls on the Canadian side and the New York side. Some places we did have to wear a mask but not everywhere. It was a really fun trip overall," Borelli said. 
The restrictions have been mostly the same for people traveling after Covid compared to before Covid. 
"I went to Greece this past October and a majority of the Covid restrictions had been lifted. In fact, the mask mandate on the airplanes was lifted the week before we left. The only requirement was to be vaccinated and that was only required by the travel agency, not the country of Greece. It was definitely a positive experience because I haven't traveled out of the country before, so it was really cool to see a culture outside of my own," Elena McCleary ,'23, said.
"When I traveled to Georgia after Covid restrictions were lessened, we still had to show a negative Covid test along with wearing a mask. They let us eat and drink on the flight which was different from when I went to Alabama during Covid because we couldn't eat or drink. Another thing that has changed is that we didn't have to sanitize the trays or seats," Stella Reiter-Flesher, '25, said.
Covid slowed down travel tremendously, but more and more people are starting to get out and travel. According to Trend Time magazine, eighty-two percent of people are in a ready to travel mindset. Are you ready to travel?
Leave a Comment
About the Contributor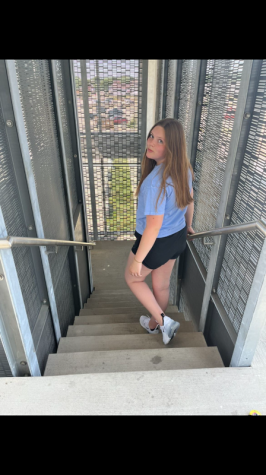 Hannah Hartman
Hannah Hartman is a sophomore at Wahlert Catholic High School. She is a reporter for the Gleaner. Hannah loves to bake, go shopping, and hangout with her...