Holy Family bridges gap between elementary and high school
This year there have been a lot of changes. Probably the biggest change this year is that Our Lady of Guadalupe Elementary School has moved onto the Wahlert/Mazzuchelli campus. Because of this, a lot of things have changed, from classroom placements to hallway travel.
"I can barely find my classes; they have moved around so much," states Caden Brimeyer, '23.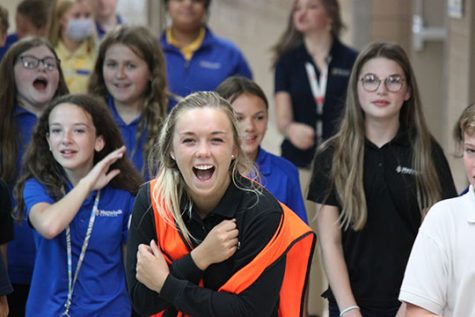 In addition to all of the classes moving around, a lot of elementary and middle school students are walking around Wahlert. 
Grace Miller, '25, says, "I see a lot of OLG students in the basement when I have choir." 
Brimeyer comments, "I see the younger kids a lot. I also see them outside during their recess break."
Some students have to wait for siblings in OLG now. Grace Wethal, '25, rides home with her brother and sister who go to Mazzuchelli and OLG. 
Wethal says, "I pick up my brother and sister and take them to the Wahlert parking lot where my mom takes us all home." 
Although she has to wait around thirty minutes for her little brother to be done with classes everyday, she says that it's ultimately helpful because she doesn't have to worry about traffic when leaving school.
Mrs. Trini Olivera, the Spanish teacher, finds the new changes very helpful. Her husband works as a fifth grade teacher at OLG, and every other day she works there as a coordinator. 
"It is much easier because I don't have to go to a different building every other day," Olivera comments.
So whether it's the convenience of having younger siblings nearby or having to dodge little kids in the hallways, the Wahlert campus is certainly showing that the school is becoming one big Holy Family.
Leave a Comment
About the Contributor
Olivia Brimeyer, Reporter
Olivia Brimeyer is a freshman at Wahlert Catholic High School. She enjoys spending time with family and friends, petting her dog, and sleeping in. Olivia...