Students fly high on vacation for spring break
by Sophie Skemp
Of the Gleaner
COVID-19 restrictions have been placed on travel for a year now, so many Wahlert students are eager to fly high on vacation for this year's spring break. Last year, many families cancelled  their vacation plans due to the overwhelming outbreak, however, this year travel is back in action! Whether it's sunny Florida beaches, the dessert of Arizona or entertainment in Texas, students are preparing to sit back and relax outside of their homes during next week.
Junior Carson Cummer plans to head down to Marco Island, Florida, for an entire week with friends and family.
"For the past five years my family and I have been traveling to Florida, and we have made it a tradition every spring break," he says. 
Cummer, along with many other families, will be enjoying his time off on Marco Island and plans on hanging out in the ocean and making good memories with friends and family.
Along with the Cummer family, Seamus Crahan, '23, says he's also excited to spend the week on Marco Island with other Wahlert families. The Crahan's have big plans for spring break this year because they were forced to cancel their vacation last year.
"My family, along with other families, had a trip booked for Mexico last spring break, but due to COVID-19 it was cancelled. I am really eager to get back to traveling!" he says. 
Crahan and friends plan to leave Thursday and come back the following Saturday.
"I'm really looking forward to jet skiing, tubing and checking out other islands near Marco," says Crahan. 
Another student who is ready to bask in the sun is senior Meghan Fitzgerald. 
"I can't wait to spend eight days in Florida while hanging out on the beach and spending time with my grandparents," says Fitzgerald. 
Their family faced trouble with COVID-19 from their last year's plans to Cancun, Mexico. She said she was very upset when they had to cancel, but is ready to spend this year's spring break relaxing and enjoying Florida's beautiful weather. 
If you're flying across the country or staying in town this spring break, find time to get outside and enjoy the spring weather! Excitement can happen from a flight away to even a walk outside your front door!
About the Writer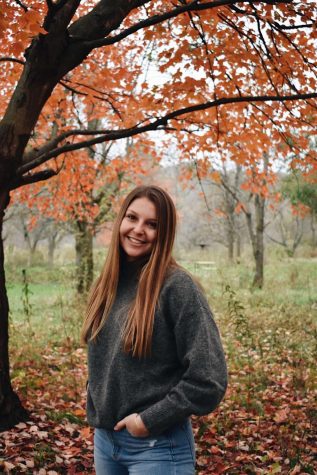 Sophie Skemp, Reporter
Sophie Skemp is an editor on the Gleaner. Skemp is a senior and dances on Wahlert's dance team, as well as competing with Xtreme Dance studio. Sophie also...