Students find their online schooling groove
1. Clean Place, Clean Headspace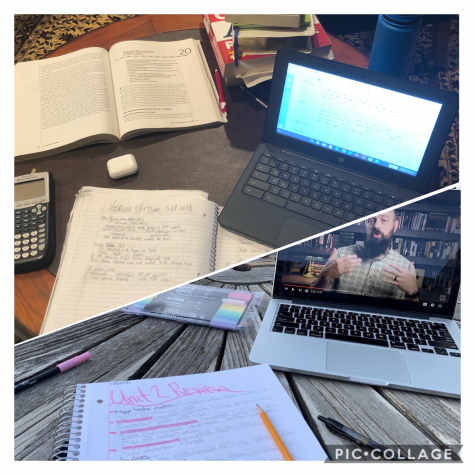 As tempting as it can be to just grab your computer and get through the first zoom calls of the morning while lying in bed, it is very beneficial to get out of bed and find a space to focus. Nadine Mueller, '23, says, "Having a quiet place really helps me because there are no distractions. I try not to have my phone with me to ensure I don't get distracted during class." Although it seems unessential, it is very important to have a space where you can focus without falling back to sleep!
2. Schedule for Success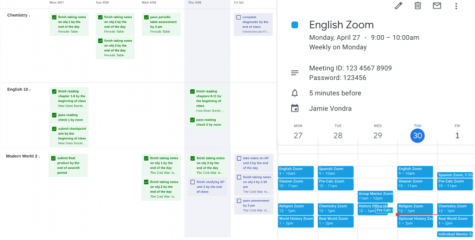 One thing that can be difficult when it comes to online school is independence. With "regular" school, there tend to be more reminders of due dates for assignments or projects. Although the teachers have done a great job of communicating with us, it can still be hard to remember the work for various subjects. The best way to solve this problem is by being organized. This can be anything from taking notes, having a calendar with due dates, making a to-do list, or setting goals. Maria Gourley, '20, notes, "I really struggled with motivation at the beginning of this, but creating a list of things to do has really helped me. This motivates me because I love crossing off work; it makes me feel accomplished!" Everyone is different, so be sure to find the way that best works for you!
3. "Work Hard, Play Hard"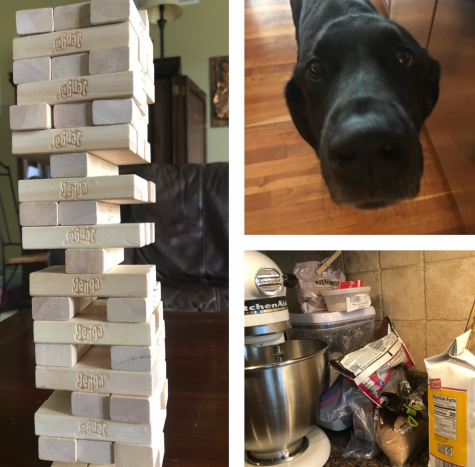 In the wise words of Wiz Khalifa, "Work Hard, Play Hard." Not only is it a great song, but it is also a great mindset for online schooling. It is very important to take a break from school work to make sure you avoid burnout and enjoy your time. Whether it is hanging out with family, scrolling through social media, working out, or taking naps, do something you enjoy to break up time. Taking breaks allows you to focus more on school work and enjoy the break time without stressing that you are not going to get stuff done. Joel Tranel, '21, advises, "Do what you can, but don't overwork yourself. Take time to spend with your family and give yourself breaks from online school; otherwise, it will be miserable." Online schooling should not be all work; you have to learn to play hard, too. 
4. Better Together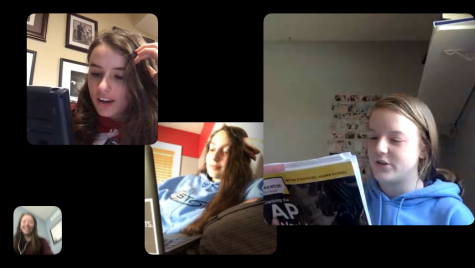 It can be very hard not to see your friends every day as you are used to. One way to be able to socialize and be productive at the same time is to create a study group! Tessa Berning, '22, said, "It is helpful to set up groups for your classes so you can keep each other accountable. Whether you're helping each other with the tasks or just motivating each other, it is helpful to have a group that can support each other and socialize at the same time." If you are struggling to stay motivated or are feeling isolated, try reaching out to a group of friends to talk and/or study.
5. Camera on, Distractions Gone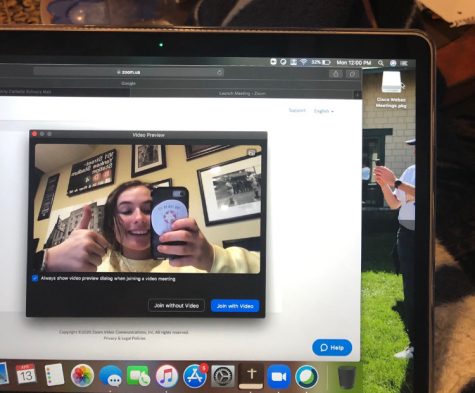 Although virtual learning is not the ideal set up for many students, it is what we have to roll with. Staring at a screen can get very boring and the temptations to do other things during class can easily come to mind. After a couple of weeks of online schooling, I, Tess Breslin, have learned a great tip to ensure that you stay focused and accountable during lessons. Keep your camera on! I know it seems simple, but it can also be such a hassle. By keeping the camera on, it ensures that you don't pull out your phone or get pulled away with other distractions. Although it stinks at first, it has benefited me a lot and forces me to stay focused.
6. Find your Vibe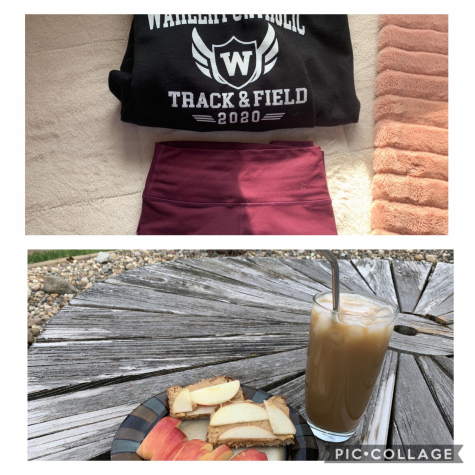 Personally, my favorite aspect of online school is the control that I, Jamie Vondra, have over practically everything. I have started to eat breakfast every single day, make lattes throughout the day, wear comfy clothes, and have more flexibility when it comes to my workout schedule. I also like to give myself a comfortable amount of time in the morning before my first class to unwind and be mentally ready. During this time, I like to get dressed, catch up on my phone, make breakfast and coffee, etc. Overall, this is the reason I am able to get through a long day of school work. I have the freedom to surround myself with good vibes and am able to personalize everything that I do to make it my ideal atmosphere.
About the Contributors
Jamie Vondra, Reporter
Jamie Vondra is a junior at Wahlert and an associate editor on The Gleaner. Vondra is involved in volleyball, bowling, and track at Wahlert. Jamie enjoys...