NCYC: Overwhelmingly wonderful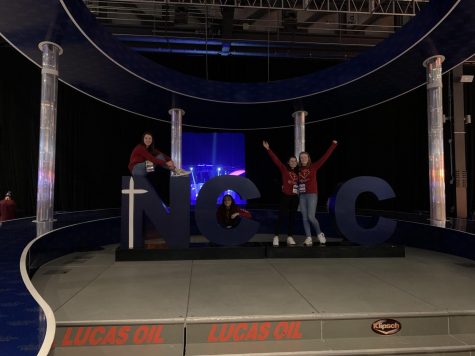 Overwhelming. The word overwhelming normally gets a bad wrap, but it is the best way to describe my experience at NCYC, the National Catholic Youth Conference. To have the opportunity to be a part of a group consisting of  20,000 teens that all want to grow in their faith is inspiring yet a bit overwhelming. I sat in awe as I watched that same group silently connect to Christ through adoration. 
"One of the best parts of NCYC was adoration and mass because it was incredible to see that many teens get so involved," said Hannah Hefel, '21. 
NCYC was truly an incredible experience, and I can not stress enough how much I would recommend going. The best part about NCYC was not just growing in your faith, but growing in your faith with some of your closest classmates, parish members, and friends. During the conference I became closer with people from my parish and built relationships under God.
Not only is NCYC an incredible place to grow in your faith, but it was also a time to forget about all the homework waiting for you at home. Stopping in the moment and having fun with friends was one of the best parts. 
The famous Christian band, For King and Country, performed the first day and was a highlight for many."The concert on the first night was amazing. They were so talented and everyone was having such a great time!" said Hefel. 
"My favorite part about NCYC was going on stage and dancing with my friends," laughs Elijiah Shubatt, '21. 
Throughout the conference multiple people ranging from inspirational speakers to DJs came and performed. There was always some party going on. 
Overall, NCYC was an amazing experience for many and could also be an amazing experience for you! Personally, I learned a lot from all the speakers and experiences NCYC offered. 
Leave a Comment