Christmas extremists get hyped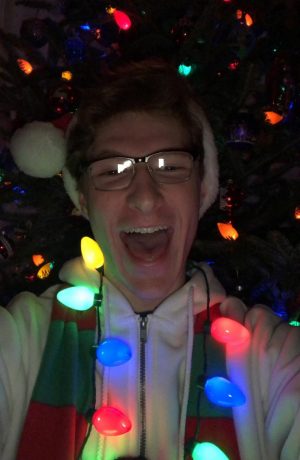 It's officially Christmas time, but this is nothing new for various students and teachers. Some have been celebrating Christmas for months, others only weeks.
One major debate at this time of year is when it becomes acceptable for the Christmas festivities to begin. Believe it or not, Christmas is a year-round holiday for a select few.
Mrs. Mary Jo Brant said, "I shop all year and decorate early. Christmas is year-round, right?"
Michael Rambousek, '19, is considered a Christmas fanatic by many. For him, Christmas is also considered a year-round holiday. He listens to the music and watches holiday movies throughout the whole year.
"I wear Christmas pajamas everywhere… to church, to Panera, to Target," said Rambousek. "People stare at me and I just start singing Christmas carols."
On the other hand, some people are not as crazy about Christmas. Mr. Tom English, who shares an office with Brant, is not as big of a Christmas extremist. Like many others, English's Christmas festivities don't begin until after Thanksgiving.
"I'm right in between: I'm not a grinch, but I'm also not a crazy Christmas person," English said.
Ella Olberding, '22, is also a Christmas enthusiast. Unlike English, she considers anytime after Halloween to be an appropriate time to begin preparing for Christmas.
"I have a whole folder on my phone just for Christmas apps," said Olberding.
Many people's favorite part of Christmas tends to be decorating, gifts, holiday movies or songs.
"My favorite thing about Christmas," said Brant, "is that everybody's happy and in a good mood. I don't quite know what it is about the holidays, but everyone is so much friendlier!"