Student Council ready to lead
As the end of the year approaches, many students may be thinking about summer. However, other students are already preparing for the upcoming school year through Student Senate. Class voting took place the week of April 16th- 20th, and on that Friday, it was announced who made it on the Class Council.
Representing the entire student body next year are Shantelle Graff, resident, and Jillian Atkinson, vice-president.
Next year, the senior class officers will include Joey Rauch, President; Vanessa Wareham, Vice President; Matthew Becker, Secretary; and Jack Doyle, Treasurer.
The junior class officers will include Will Hoffmann, President; Lucas Topping, Vice President; Ashley Steele, Secretary; and Jacob Hocking, Treasurer.
Finally, the sophomore class officers will be Danny Steele, President; Lindsay Cummer, Vice President; Lily Jochum, Secretary; and Nick Bandy, Treasurer.
Graff, student body president of the 2018-2019 school year, is very excited to represent Wahlert. "Ah, next year," Graff, '19, sighed. "I don't really have any big plans. I am just hoping to listen and be able to give the student body what they want next year. I am a little bit nervous about talking to administration and having to give a speech at graduation, but I still have a lot of time before that happens."
Wareham, senior class vice president for the 2018-2019 school year, is also nervous for the graduation speech but is thrilled to take on a higher position. "This year we helped plan Flight, the Blood Drive, and we are currently planning prom. Next year, we'll get to plan homecoming and be more in charge, so I'm looking forward to that."
Hoffmann, junior class president for the 2018-2019 school year, reflected on how being class president for the past two years has changed, and how it will continue to change next year. "Last year, as freshmen on student council, we weren't really expected to do a whole lot, and this year as sophomores, we planned Winter Formal, but we are still underclassmen. Next year, we are going to have more say and take on more responsibilities."
Lily Jochum, sophomore class secretary of the 2018-2019 school year, enjoyed being on Senate
this year. "My role as the secretary was to attend student council meetings and take notes. Next year, I hope that we consider planning more school events during Homecoming Week and Catholic Schools Week."
Only time will tell what next year will bring, but new ideas that are brought to Student Council may be strongly considered and might even have the possibility of shaping our community. How it is shaped will depend, in part, on how much students voice their opinions to their representatives.
SaveSave
Leave a Comment
About the Contributor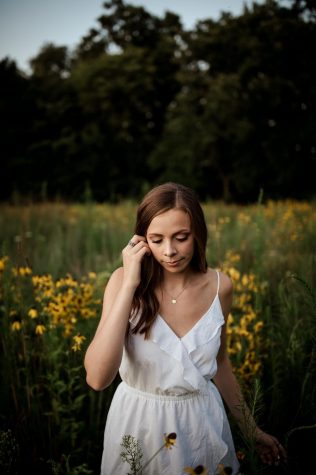 Maddie Roling, Editor
Maddie Roling is a 2020 graduate from Wahlert and a previous co-editor on The Gleaner. Maddie was co-captain of the varsity football cheerleading squad,...