Is life S'well?
Maddie Roling
Of the Gleaner
Around school, many people have been spotted carrying around various types of water bottles. Whether it's a Yeti, Hydro Flask, or a S'well, it gets the job done. But many students still wonder what the difference is between all of these popular water bottles.
Luke Meyer, '17, has a Yeti.
"It keeps my refreshers cold," Meyer said. For Luke, his Yeti doesn't have a cap, so whenever he bends over, his water spills out. "I would still give it a ten out of ten, and I would definitely recommend it to others," Meyer concluded.
Cal Kunnert, '20, also owns a Yeti.
"I can fill up my Yeti before bed, and if I need a drink in the middle of the night, the water is still cold," Kunnert explained. "It's bad because of the price, but I like to say I have a Yeti."
Allie Arnz, '20, likes the Yeti for other reasons than keeping her drinks cold.
"I like the Yeti because it keeps my coffee and my soup warm," Arnz laughed. She also agreed that she doesn't like the cap because her soup spills easier.
In contrast, Olivia Blosch, '19, carries around a Hydro Flask. "I like the Hydro Flask because it keeps water cold for a long time," Blosch stated. "It's also very durable, but mine is dented. I would still recommend it, especially over S'well bottles."
Owners of the S'well disagree. Grace Burke and Sophia King, '20, agreed that the S'well bottle keeps water chilled for a good period of time.
"I have a baby S'well, and it still keeps my water cold just like a normal-sized one," Burke added.
"It also doesn't sweat," King said.
Louis Ungs, '18, has other reasons for carrying a S'well around.
"A lot of girls have S'well bottles, so it gives me a reason to talk to them," Ungs said. "I don't like how easily they dent, so I would give it a solid seven."
Instead of carrying around a water bottle, Mr. Cole Smith carries a gallon of water with him every day.
"Not only is it a challenge for me to drink it all, but it's also cheaper," Smith noted. Mr. Smith also said he would consider buying a water bottle for the summer.
Namebrand water bottles, such as the water bottles mentioned, are typically more expensive based upon the style, size and use. Overall, everyone has their own way of drinking their beverages, whether it's out of a namebrand water bottle or a regular plastic water bottle.
Leave a Comment
About the Contributor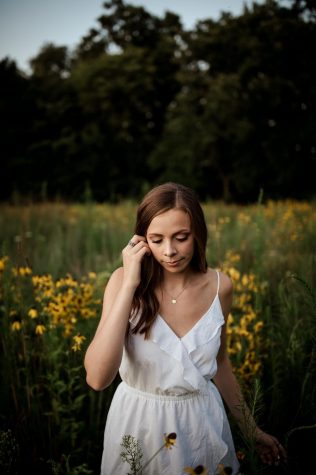 Maddie Roling, Editor
Maddie Roling is a 2020 graduate from Wahlert and a previous co-editor on The Gleaner. Maddie was co-captain of the varsity football cheerleading squad,...