Setting the scene
In the past, many of the plays selected by the Wahlert theatre department have been more light-hearted. However, this year's fall play, 'Night, Mother, dealt with the topic of suicide.
In the play, the two main characters, Thelma Cates (Mama), played by Monica Ripley, '20, and her daughter Jessie Cates, played by Samara Wigginton, '20, illustrate the emotions and struggles that suicide can present.
Jessie has struggled with epilepsy and depression her entire life, and has decided to take her own life. The play begins as she prepares things around the house for her departure and says goodbye to Mama.
Wigginton dove deep into taking on the role of Jessie, taking into perspective of how serious her character is.
"I had to read over the script seriously and really think about what my character was going through," Wigginton explained. "Throughout my day, I often hear my peers say, 'Oh my gosh, I want to die' just because they don't want to be at school, and this play  has changed my perspective on what words can really mean. I now know how lucky and fortunate I am for the way my life has turned out, especially when I could've gone down a much darker path," said Wigginton.
Ms. Molly Plumley, director of the play, explained how usually, at the end of the show, Jessie goes into her room, locks the door, and a gunshot goes off. However, she decided 'Night, Mother was going to have a different ending.
"Instead, we had Jessie enter her room, lock her door, and had Mama banging on the door," Plumley stated. "We thought that the show should end with a cliff hanger to open a panel discussion at the end of the performance. I think that suicide should be something people can discuss to encourage others that there is hope."
During the panel discussion, the cast explained what it was like to address  such a serious concept. Also, school counselors discussed suicide and its effects, along with what pushes people into those mindsets, whether it is a mental illness, a physical disability, or a life event that has been difficult on an individual.
Leave a Comment
About the Contributor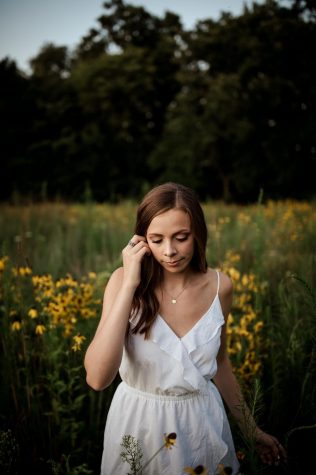 Maddie Roling, Editor
Maddie Roling is a 2020 graduate from Wahlert and a previous co-editor on The Gleaner. Maddie was co-captain of the varsity football cheerleading squad,...