Taking stage
Hang on for a minute...we're trying to find some more stories you might like.
"Music expresses that which cannot be said on which it is impossible to be silent." -Victor Hugo.
This is a phrase that many music students live by. Music creates words, pathways, and outlets for those who maybe can't find the right words or way to express themselves. This expression can be done through many types of music from heavy metal to classical.
Wahlert has an abundance of musically talented individuals. Each shares his or her talent through either show choir, choir, or the spring musical, and these talents have been encouraged through supportive friends and family members.
For Owen Borelli, '18, his dad and one of his elementary school teachers were sources of encouragement for sharing his musical talents.  His father was not only good at singing, but he was also very supportive of Borelli's love for music.
Additionally, his teacher saw the potential Borelli had and worked with him to develop his incredible talents. Today Borelli practices and hones his skills with voice teacher, John Lease. Along this musical journey, Borelli's parents have been really supportive. "They knew that it is something that I really enjoy, so as long as I work hard, they support me. My family loves music, so being able to use it with all of them makes it even cooler."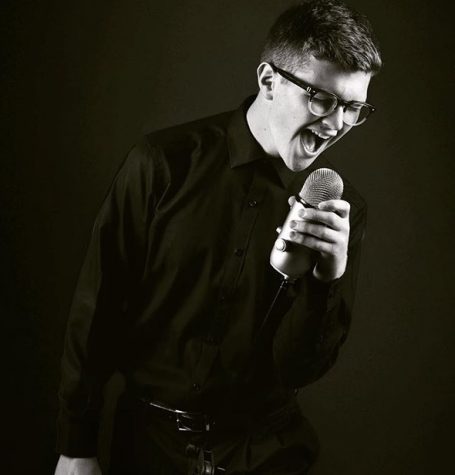 These talented students have looked to a variety of successful artists for inspiration. For Borelli it's people like, "Stevie Wonder, Michael Jackson, and Marvin Gaye" that inspire him to get better and keep singing. Along with these artists, Borelli enjoys listening to Christian music – a genre his father introduced him to as a child.
Another talented student is Gwyneth McSperrin, '19.  One of McSperrin's biggest inspirations was her grandmother. "My grandma was a big advocate for the arts and music. She was a piano teacher, and everytime I could go over to her house, we would play the piano together. She would always sing songs with us before bed, and we would jam out to Mamma Mia in the car.  She's definitely the main reason that I got into music."
To continue to develop and mold her already fantastic voice, McSperrin also takes voice lessons with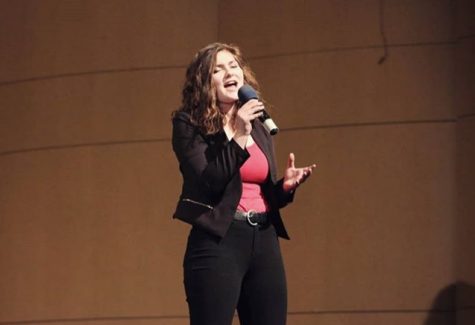 John Lease. McSperrin enjoys listening to 60s and 70s music because she, "likes the authenticity of older music rather than the pop autotune stuff" but she still enjoys a good pop song "to jam out too." McSperrin also enjoys musical theatre and acting and plans on pursuing this career path in her future.
Taking the stage as Emmett in Wahlert's production of Legally Blonde is Jacob Nuti, '19. Nuti doesn't know what got him into music, but, "I know I've loved and pursued it with a vengeance and won't stop pursuing it until death."
Even though Nuti is  not necessarily sure what got him into music, his parents both, "come from very musical families, and it was kind of just a given that I would pursue it. They support me immensely and also show up to the things that I am participating in."
Nuti also takes voice lessons with Kristin Eby. Along with this, Jacob has put himself into a large assortment of musical activities. These activities consist of choir, show choir, showband, band, jazz band, musicals and theatre both at school and in the community.
For some people, music gives life meaning. It allows for many, including those mentioned in this article, to express that which that they may not be able to show through words or actions. Wahlert is fortunate to be able to benefit from such amazing talent!