2019 Homecoming Court
Wahlert is full of spirited and bright individuals. Homecoming especially is a time where students can recognize classmates who exemplify one or more of the characteristics that they as a class value most. To get to know a few of the royal students on Homecoming Court, The Gleaner asked them a few questions.
Ashley Steele, '20, is the student body president, a dancing state champion, and a Gleaner editor. She claims that,. "I'm not that unique, but I do have double jointed shoulders," she said.
Another homecoming court member, Connor Hartig, '20, has an immense amount of dedication. However, it may not be what you think. Connor said, "I would risk my life for a good Taco Bell run. Last year, I went out during the worst winter storm at 2:00 a.m. for Taco Bell. My car was sliding across the whole road just to find out it was closed."
 Hartig has an overflowing amount of school spirit, and you can find him in the front row cheering enthusiastically at football games. Connor also participates in planning pep rallies on the Spirit Committee and is a fourth year member of Impulse, the varsity show choir.
Ellie Kobusch, '20, is also a spirited member of Impulse. "I love dancing and singing, so it was perfect!" said Kobusch. "I pushed myself a little out of my comfort zone and got a lot of great memories from the experience." 
Ellie also loves the community built up during pep rallies, and is proud that she had the opportunity to play a role in them as a member of the homecoming court.
Charlie Jaeger, '20, agrees. "Seeing how our school can have bigger crowds come out to football and basketball games than other schools, just proves how strong of a community we are." 
Jaeger especially likes the team that Wahlert Catholic is. One of his favorite memories is getting to play on the varsity baseball team with his brother as a sophomore. The community he loves so much clearly feels impacted by him because he was voted our 2019-2020 homecoming king. 
Jaeger, and his queen, Libby Perry, '20, put on a stunning fake fight during the pep rally. 
A new member to the Wahlert community, Matteo Barzagli, '20, has had a similar experience. "I've only been here for two weeks, but I already really like football games," said Barzagli. Matteo is in a foreign exchange from Italy, staying with his fellow homecoming court member, Claire Broedrick, '20. Something else Barzagli enjoys doing is magic, and during the pep rally the student body learned that he can also rap.
Next, is someone who puts her friends before all. Maggie Friederick, '20, (also known as "Mommy") stated, "I would risk my life for Sam Kluesner because he's such a sweetie." According to Friederick, her friends seem to notice the amount of compassion she has. The best advice she has ever been given is, "You're going to do great things, sweetie," from her best friend Joe Bahl, '20.
Other members of the court include Carolyn Peckosh, Jessica Dominguez, Bryce Anstoetter, Tanner Rudiger, Sam Kluesner, and Marik Dickson.
It's clear that the seniors have nominated some great individuals to represent what their class is all about, including some qualities like leadership, spirit, and friendship. Although, only a few seniors were nominated onto court, there are many more who embody the ideals of the class of 2020.
About the Writer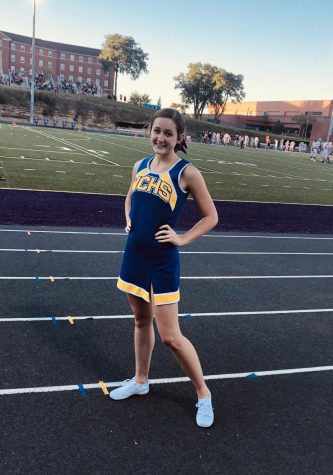 Libby Sigwarth, Reporter
Libby is a junior this year. She enjoys Varsity cheerleading for football and basketball. She is passionate about dancing at The Dubuque Academy of Ballet,...