Foreign exchange students exploring Wahlert
by Ashley Steele
of The Gleaner
Adjusting to a new school year can sometimes be challenging. However, adjusting to a new country could be even more challenging. 
The foreign exchange students at Wahlert, Matteo Barzagli, '20, Emily Pfeiffer, Helena Perez Gonzalez and Candela Murcia de la Hoz, '21, have been adjusting fairly well to our country and our community. 
"I was a little nervous about leaving Italy for such a long time, but I am totally good now," Barzagli said. 
Everyday things that may seem normal to Americans can be a big change to those who live far away. 
"I have been adjusting to different things slowly, like the food, but overall I have liked a lot of different things," he said.
Barzagli has been to a few football games so far and has enjoyed dressing in the themes. 
"The toga theme was super fun and cool. Very different and interesting, but fun!" he said.
Other foreign exchange students are getting involved during Friday night lights by joining the cheer team. Pfeiffer, from Germany, is a varsity cheerleader for football. 
"In Germany we do not have cheerleading, so I was excited to try something new when I came here. I have loved being a part of the team, too," she said.
Pfeiffer is staying with her uncle while she attends Wahlert. Her mother, Lisa Pfeiffer, '85, attended Wahlert but moved to Germany for college, where she raised her family. 
Pfeiffer has also been adjusting to life in Dubuque. One thing that she has found particularly interesting is the number of students who can drive. 
"It is weird to me is how everyone can drive anywhere. In Germany, we get our license at 18, so when my friends here drive me places, it kind of shocks me," she said. 
Gonzalez and Murcia de la Hoz are exchange students from Spain. They just arrived recently but are adjusting to life at Wahlert well.
Leave a Comment
About the Writer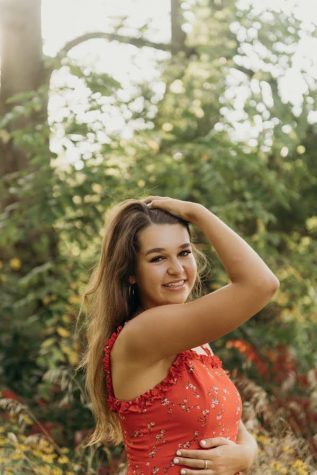 Ashley Steele, Editor
Ashley Steele is a senior at Wahlert, and is an Editor for The Gleaner. Ashley is a dancer for Vibe Dance Co. and on the Wahlert dance team. She is Student...