New club has a smashing good time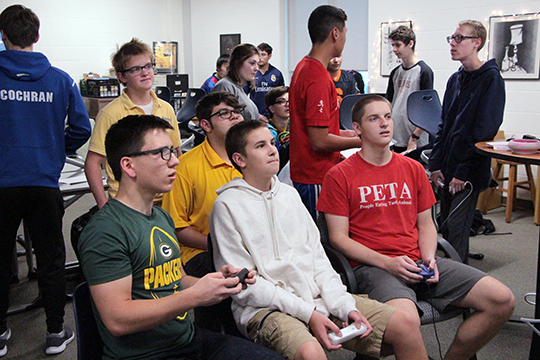 There is a new club here at Wahlert called The Smash Bros. Club. The club is moderated by Mrs. Cathy Conlon, and It meets after school on Mondays. Super Smash Bros. is a fighting video game featuring mostly Nintendo characters and some third-party characters. There are four, soon to be five, games in the series.
The creator of the club, Matthew McGuire '19, is excited about the club's future. "The reason I made this new club is that I love to play the game, and I want to play with others here at Wahlert," said McGuire.
McGuire thought about creating a gaming club but decided to be more specific. McGuire's dream right now is to make it to a professional Smash Bros. tournament. He wants to join the team, Beefy Smash Doods, so he can do what he loves. The Beefy Smash Doods is a competitive Smash Bros. team. They also have a Youtube channel, where they upload tips and tricks videos, combo tutorials, and competitive guides.
McGuire prefers the Wii U version of Smash Bros, even though he does not own a Wii U. Matt has played Melee and Brawl, but Brawl is more fun to him because his favorite characters, Wario and Wolf, are playable.
The club plays both competitively and casually, but it also depends on who is playing; some people play competitively and others play casually. So, if you've nothing to do on Mondays after school, consider dropping by Room 238 to check out this new club.