All Things Autumn
The season of fall is in full swing, meaning that the trends are falling into place. From flannels and boots to candy corn and pumpkin spice lattes, there are many things to relish about fall.
Many people enjoy different fall foods, such as caramel apples, apple cider donuts and pumpkin pie. Sister Kay Gaul, religion teacher, especially enjoys candy corn.
"It's my favorite candy," Sister Kay smiled. "Seeing candy corn takes me back to the time of being a little kid and reminds me of friendliness. When I was little, I would walk home from school, and our neighbor always had candy corn around Halloween, which is my birthday."
Pumpkin spice lattes are a huge fad across the nation. However, Lily Jochum, '21, and Cameron Haugen, '19, are not huge fans.
"I didn't actually get one, but I tried it," Haugen said. "It was average; it wasn't terrible, but I wouldn't buy it again. Hot chocolate tastes better than pumpkin spice lattes."
Jochum agrees, stating, "I tried it once last year. Although I like pumpkin-flavored things, I wasn't a big fan of it in my coffee, and I would prefer something like a mocha or a vanilla latte."
In terms of staying warm and in style, Allie Arnz, '20, enjoys wearing fuzzy socks in the season of fall.
"I like the socks from American Eagle," Arnz stated. "I would definitely recommend them for anyone who likes to stay warm, especially when they go on sale."
However, Luke Schockemoehl, '19, recommends wearing flannels. "They keep you warm, and they look good," Schockemoehl said. "I usually wear them when I'm with my special someone."
Between popular fall festivities and trendy fall fashions, there is surely something fun for everyone. So grab a friend or a loved one and share some memories while the season of fall lasts.
Leave a Comment
About the Contributor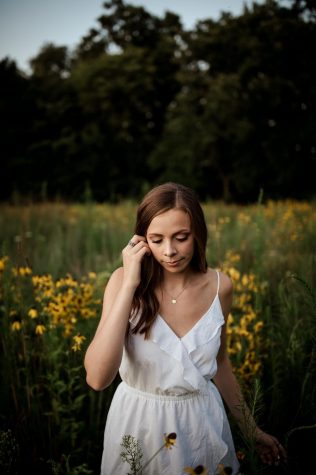 Maddie Roling, Editor
Maddie Roling is a 2020 graduate from Wahlert and a previous co-editor on The Gleaner. Maddie was co-captain of the varsity football cheerleading squad,...