Picturing our future
What is photography? Photography can mean many things depending on who you ask. Some may say it's beautiful while others may say it's a way to convey some of the harshest problems our world faces today. The possibilities are endless when it comes to photography. These possibilities have been explored by Wahlert students in many ways thanks to the digital photography class taught by Ms. Sarah Conlon. Conlon is passionate about her class.
"Photography is one of my favorite art forms because it is instantly gratifying, and it forces me to become more aware of the world around me," says Conlon. "I pay more attention to the way light hits objects at certain times of the day. I am more aware of how body language and facial expressions accurately convey how someone is feeling."
For Conlon, photography challenges her to make the ordinary look extraordinary. "I enjoy documenting typical life events with snapshots but also challenge myself to create well composed photos of mundane routines. In fact, I have a series of images created while walking from my car to the school building every morning," said Conlon. All of this knowledge and interest in photography has led her to be a better teacher of this field.
Conlon, knowing that photography is a very complex thing with so many styles, has learned that she has, "to accommodate everyone. I try to present all lessons in a variety of ways: I demo and show examples, I have hard copies of lessons and directions available, and I encourage students to help each other. I also present a wide variety of lessons that concentrate on different aspects of photography such as the rules of composition, Photoshop software and camera manipulation," said Conlon.
Monica Ripley, '20, was a student of Conlon's last year, and since then, "Photography has made a huge impact on my life simply because it has shown me how to capture the moments that I find memorable. Whether it be something in nature that I think is beautiful or a person that I think is beautiful, photography has given me the ability to capture and remember those moments that I don't want to forget."
Ripley also appreciates the insights that photography offers to other artists. "In looking at other people's photos, I'm able to understand more about that specific photographer and I'm able to immerse myself in that image in order to feel what the image wants me to feel," said Ripley.
Not only this, but the class enabled her to discover her style of photography, one that's, "a very warm style. It fluxuates quite a lot depending on what I find attractive at a specific time, but I enjoy capturing the moments of pure warmth in different people or places. "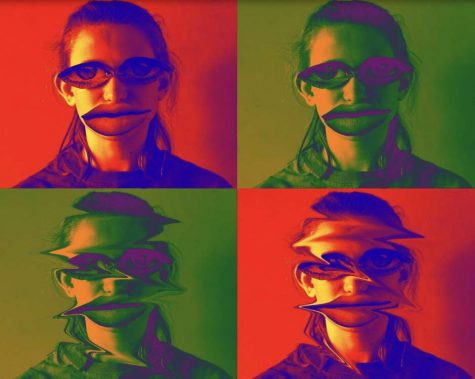 Nick Nachtman, '20, is another student of Conlon's, and for Nachtman, photography has always been an outlet, allowing him to express himself. "As someone who frankly doesn't have the technical skills required for drawing or painting, photography allows me to capture what I see in the world or my imagination in a fulfilling way," said Nachtman.
And even though he doesn't see himself as artistic in other areas, photography has been something that he has excelled in. In fact, he, like Ripley, was able to develop his own style that "tends to revolve around two very opposite sides of the spectrum. I enjoy a very natural, candid, sunlit photo, inspired by polaroid or film photography, the kind of photography that looks like a memory. However, I also enjoy surreal, heavily manipulated photography, that showcases beauty in a much more inhuman and bizarre, but still authentic, way." His skills have only been improved by taking digital photography.
For those who decide to take Digital Photography, the class doesn't only teach you what photography is, but it also helps you figure out who you are and what your "style" is.