Escape into a new world
Hang on for a minute...we're trying to find some more stories you might like.
Dubuque has a new addition for entertainment options. Before this new adventure arrived, students  could go to the movies, to the mall, or even to a jump park. But now they can pay to get locked in a room for up to 90 minutes! Well, that's not all they do, but, believe it or not, that's part of the adventure.
The Dubuque Escape Room challenges its clients to escape a themed room full of puzzles, riddles and difficult challenges.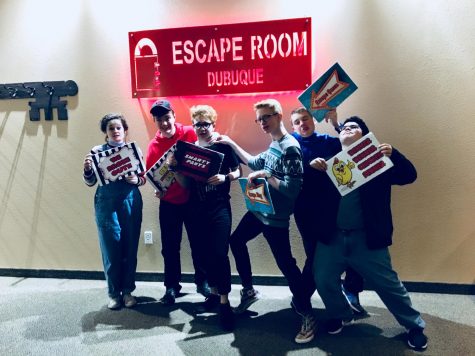 The current themes include Motel Mystery, Race to Treasure, and Casino Heist. To keep things interesting for those who want to attend more frequently, these themes change every so often. Participants only have 90 minutes to solve the puzzles presented by the room and get out, but is the experience worth the money?
To answer this question I went to the Escape Room with a few friends and escaped from the Race to Treasure-themed room where we were tasked with solving archeological puzzles in the eccentric archaeologist, Dr. Blackstone's, office. His only response when asked why he wanted this group of people to search his office was "To see if any of them have the s.t.u.f.f. to work at my new museum." In this room we had to figure out multiple puzzles, some more mentally focused, while others required physically moving or changing objects.
Going into the experience I was a bit critical, thinking that the puzzles would be simple, and we would get out of the room with no problems and much time to spare; however, I was very quickly proven wr
ong. Not only did we get out with only a minute to spare, but I also let my friends take over and do all of the puzzles while I watched.
The puzzles were surprisingly mentally taxing! Much to my amazement, although the escape extremely hard, I felt like that this experience forced the my group to really come together and work a
s a team. All differences were put aside, and we were left closer than we were prior to the experience.
Not only does the Escape Room experience test problem solving skills and bring groups  closer, but it offers options for multiple mysteries to solve. For example, the Casino Heist puts participants in the place of someone who has, "made it inside the casino gaming floor and managed to deactivate the security system for 60
minutes. After that amount of time, the alarm will sound, and law enforcement will arrive. Can you find the money and get out in time, or end up in custody?"
The third Escape Room option is a Motel Mystery. It's about "a traveling salesman that was murdered in room 110 of the motel you were in last week. His widow thinks the police are looking in the wrong direction and wants your team to discover the killer's identity before the room is re-opened for rental in an hour. Can you figure it out?"
So, for those  looking for something to do in Dubuque who are tired of going to the movies, the mall, or the jump park, the Dubuque Escape Room is a great option. It's an interesting, difficult, and fun experience. Even better… it's a great way to bond with friends and family.