New shows means new obsessions
Looking for a new TV show to obsess over? These shows have everyone ready to go home, grab the remote, fall into the couch and get lost for hours.
Stranger Things – Dramedy/Sci-Fi and Fantasy  Season 2 Netflix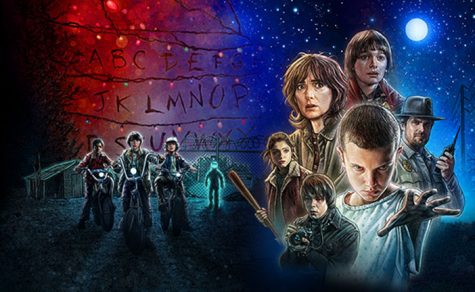 Based in the 1980's, this TV show centers around a group of kids who have a lot more to worry about then homework. Lucas, Mike, Dustin, and Will's lives were changed when Will suddenly disappeared. He was trapped by the Demigorgan, a creature from another dimension called the Upside Down. While trying to find their friend, Lucas, Mike and Dustin find a strange girl named Eleven. Fans don't have to wait anymore because Season 2 of Stranger Things is on Netflix now. Be prepared to sleep with the lights on, bring out your Christmas lights, and have a strange craving for Eggo waffles.
"It's a very quality show with legit good child acting," said Lizzie Fitzsimmons, '19. "I'm pretty much just hooked. I love all the characters and the premise of the show is super cool."
Riverdale – Drama/Mystery Season 2 the CW
This adaptation of the Archie Comics centers around everyone's favorite redhead, Archie Andrews, and his friends Betty and Jughead. When a body is found in Sweetwater River, later identified as Jason Blossom, Riverdale is no longer the safe town it once was. With mystery and danger around every corner, a new face comes to Riverdale, Veronica Lodge. Veronica, Archie, Betty and Jughead banded together to find Jason's murderer. Now that one mystery is solved, the core four must come together to solve another. Riverdale season 2 on the CW has fans dropping their jaws as Archie's life is changed all around him.
"It is a very suspenseful and dramatic show," said Kaylee Robles, '21. "They always leave you wanting to watch more."
The Mayor – Comedy Season 1 ABC
After being a struggling rapper for many years and trying to get his music out in the public, Courtney Rose decides enough is enough. He gets himself in the public eye by running for mayor in his hometown in California. To his surprise, he wins the election. Now he has to try to promote his music while fixing the town he loves wIth the help of his mentor Valentina, played by Glee and Scream Queens star Lea Michele. Fans have taken a liking to the show's funny characters and bizarre premise.
"For those who just want to sit back and enjoy a little comedy with attitude that still has a  good message," says Abby Burns, '18, "this TV show is perfect."
Young Sheldon – Comedy Season 1 CBS
Can Big Bang Theory fans ever get enough of Sheldon Cooper? Based in 1989, 9-year- old Sheldon Cooper is in his Texas hometown. Being the mega genius he is, we follow Sheldon as he makes his way through high school with his less intellectual older brother. Sheldon's brain gets him into some ridiculous situations as he realizes that high school is going to be harder than he thought. The TV show is narrated by Big Bang Theory's Sheldon Cooper actor Jim Parsons. Fans love seeing their favorite TV character in a different light.
"It seems interesting and funny. Plus, it's based on my favorite TV show, The Big Bang Theory," said Danielle Pape, '19.
The Good Doctor – Drama Season 1 ABC
Starring Bates Motel actor Freddie Highmore, The Good Doctor is about Dr. Fred Andrews who was diagnosed with autism and savant syndrome. He has a gift of knowing his patients and what to do to save their lives. He became a doctor because he couldn't save his brother when he died. He is a genius compared to most doctors and can save more patients than anyone else. However, people have a hard time taking him seriously because of his diagnosis. Fans love the show's message of understanding and showing you can do whatever you set your mind to.
"I just love how he is an unexpected genius. It shows that it doesn't matter your background. If you work hard, you can be who you want," said Michelle Carpenter, '21.
Leave a Comment