Frese shares his friendly message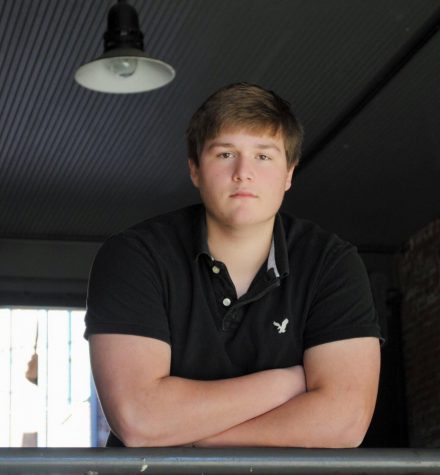 High School is a prime location for judging based off of false pretexts. Oftentimes, these pretexts may follow people through high school. Jack Frese might be labeled as misunderstood, but the lumbering cleanup hitter for the Golden Eagles is one of the more fascinating members of community. Jack and I hit it off in our sophomore year on the basketball team together, and his unique taste in music and sense of humor was evident right away.
"I'm a big, beefy dude that people want to point fingers at, but I'm a lover at the end of the day, and I just want to get to know people," said Frese with a grin.
Jack has had a unique high school experience as he transferred from Senior to Wahlert in his sophomore year, then back to Senior, and finally back to Wahlert to finish his high school career.
"I feel like I made the right choice coming back to Wahlert. I did not feel at home right away, but coming back, I realized how much I love the community here," said Frese. "This place has made me feel welcomed and loved."
Frese is an example to all to not judge a book by its cover. Like anybody, he has grown quite a bit from freshman to senior year.
"I've definitely changed throughout high school. I feel like I have matured but also still know how to have fun, and I know now when to get down to business," explained Frese.
His baseball career has also taken off in the past few years. He will be attending Kirkwood Community College to play for the Eagles. He hopes to use KCC as a launch pad to a Division 1 program in the future.
"I feel like it all clicked when I got here. Coach Tuescher has groomed me and pushed me to improve every day," said Frese.
He may seem imposing, but I have yet to find a more approachable figure that interacts with so many different people. Jackson is genuinely a one of a kind person that can fit in with just about anybody.
If there is one message that Frese and other seniors alike can send, it is to branch out. Talk to new people; be open to different types of personalities before judging. Frese says, "Get to know the people around you. Find the groups you click with, the more the merrier."