The Name Game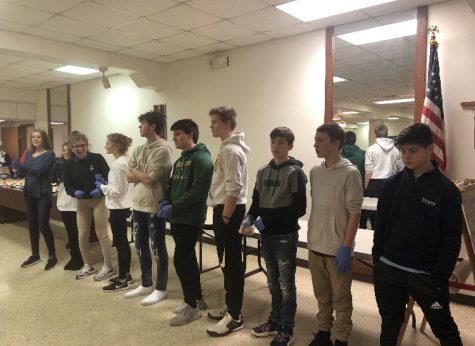 Many students are on their spiritual journey to complete the sacrament of Confirmation.
Throughout confirmation preparation, students  explore their faith more deeply and after being confirmed, will be  able to participate in the church community in ways such as distributing the Eucharist during mass.
One of the main components to confirmation is picking an inspiring saint and using that saint as a guide and role model during the confirmation preparation.
One of these confirmation students is Meghan Osterberger, '22, who explains her choice: "My confirmation saint was Saint Maximilian Kolbe,  and I chose him because I was very interested in World War II, and he died in a concentration camp sacrificing himself for a person who had a family. He also kept people's spirits up during the brutal times," she said.  
"What drew me to him was his bravery and his selflessness, and it was easy picking him because he is someone I have looked up to since I did a report on him in the sixth grade."
Many students aspire to be like the saints they chose and have been looking up to them since they were kids.
"I chose Saint Pier Giorgio Frassati," said Jackson Haugen, '22. "I remember reading a book about him a while ago and not knowing much about him before it."
"He was one of the richest people, but because of his kindness and the way he loved people, he gave it all up for the poor."