The life of a young entrepreneur
This year, Abby Ehrler, '21, entered Wahlert as a transfer student from Galena. But she is more than just a transfer student; she is a business owner. 
It all started three summers ago when Abby planted and harvested organic sweet corn. Her supply quickly sold out, so each summer she began growing her business into what it is today. This small venture has grown, and now Ehrler sells organic produce, popcorn, and soaps at four farmers markets, seven stands, and she even supplies products to Piggly Wiggly. 
"My family has a few thousand acres, but I'm more into organic farming," Ehrler commented. "I hope to continue it for sure through high school just because it has been very successful. I've used that money to pay for a car and even a planter."
Abby is also an active member of her family's wedding and event center barn, working as the event coordinator. Abby talks to the brides, plans music, and ensures that everything is prepared for the special day. In eight years, Ehrler plans to completely take over the event center. 
"My farm has been in the family since 1854, and my great great uncle founded the first dance hall in Galena," Ehrler stated. "My mom was inspired by our ancestors to start our own event center, and my great great uncle Leo had the first grocery store in Galena, which inspired me to start my own business. I also really enjoy working at the event center." 
When she isn't working, Ehrler is with her horses.
She has several thoroughbred, quarter, and draft horses."My favorite hobby is spending time with my horses," Abby said. "Simple things like brushing them brings me so much joy." She enjoys riding horses on her family's 1,200 acres, as well as showing her horses at competitions. Abby has also competed and won many competitions nationwide.
Leave a Comment
About the Contributor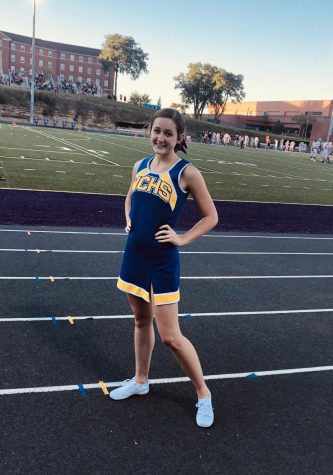 Libby Sigwarth, Reporter
Libby is a junior this year. She enjoys Varsity cheerleading for football and basketball. She is passionate about dancing at The Dubuque Academy of Ballet,...