Shining without a spotlight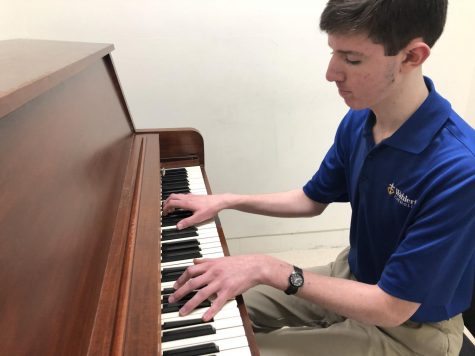 Behind every musical and show, there is a lot of preparation and hard work behind the scenes that most people don't ever see. Because Wahlert's fall musical, Songs For A New World, was made up only of songs, they needed someone to handle the pressure of being the only source of music. They needed a pianist who would be talented enough to be a strong base and make the show complete.
"Ms. Plumley asked me in September if I would play for the show, so I started to do a lot of research to get a feel for the show and become familiar with it," said Jonathan Hill, '21, the pianist who played for Songs For A New World.
Hill had never played outside of a band or orchestra pit before but did a stellar job in the show. He explained how he enjoyed being involved in the show and would love to do something of that scale again, even though it was a lot of work.
"I learned a lot from being in Songs For A New World. It was very tough music, but it was a great experience for me," Hill said.
When Hill was in first grade, his mom gave him a basic outlook on how to play the piano, and he started to get into it more over the years on his own. There are many reasons Hill loves to play the piano, but for him, it is not all about his success.
"The greatest thing about playing the piano is getting to meet a lot of different people that have a lot of the same interests as you. I've met a lot of great people just through playing," Hill explained. "Plus, the piano is something I can share with people for an entire lifetime."
Hill may not have been in the spotlight, but he didn't need a spotlight to shine.