Parent-teacher conferences effectiveness
by Ashley Steele
Of the Gleaner
This week students are going to enjoy a long four-day weekend. Teachers, however, will have a week full of parent-teacher conferences. Some students and parents still attend conferences; however, they do not seem to be the norm for many Wahlert students. 
"My parents don't do parent-teacher conferences anymore," said Sam Pregler, '20. "They say there is no point when I am doing just fine in school." 
Pregler's parents make a fair point; however, some parents believe conferences provide a good opportunity for both the teacher and parents. 
Freshman Nora King's parents still attend conferences every semester to meet with teachers to talk about how she is performing in the classroom. 
"I like how my parents go to conferences. I think they benefit my relationship with both my teachers and parents," she said. "My teachers are honest about me so my parents can learn more about me as a student." 
Evelyn Ward, '21, agrees with King in the sense that conferences are helpful for both the student and parents.
"I think it's a great way for my parents to understand more about me in the classroom," she said. "My teachers are also very honest, and I think that is very helpful."
Parents learning more about a student's performance in the classroom often pushes the student to work harder in the classroom. Although the conferences tend to be short, they can benefit the student greatly.
As a teacher, Mrs. Becky Varley appreciates when parents take the time to meet face-to-face even for a few minutes to discuss the progress of their student in the classroom. 
"Although we have PowerSchool nowadays, it is nice to see parents and have an in-person conversation," explained Mrs. Varley. "Sometimes over email you can't tell the tone of voice a parent is using, and it can be concerning if they seem worried or frustrated. So parent-teacher conferences are a great way to talk with one another."
With the new way students are starting to learn in  Personalized Learning (PL), parent-teacher conferences are also changing for those involved with PL. The conferences are longer ranging, between 20-30 minutes, and parents only have to meet with one teacher. 
Ryan Hearn, '22, who has been in PL for two years, goes to conferences with his parents to discuss his progress. 
"My teacher just summarizes what I have done so far and the path that I am moving forward with," he said. "They are different from regular parent-teacher conferences because one teacher explains every class I am in to my parents. It makes it much easier." 
Parent-teacher conferences allow parents to meet with teachers to gain a better understanding of their child as a student. Although some parents feel no need to attend conferences  when their child is doing well in school, conferences can be beneficial not only for the parents, but also for the teachers to explain to parents what areas that their students are excelling or declining in.
About the Contributor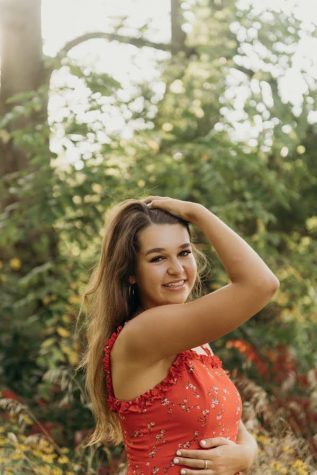 Ashley Steele, Editor
Ashley Steele is a senior at Wahlert, and is an Editor for The Gleaner. Ashley is a dancer for Vibe Dance Co. and on the Wahlert dance team. She is Student...