Students have fun in summer sun
When school lets out, everyone needs a break. Some people go on long vacations, some people spend time with friends, some people play video games, and others watch TV.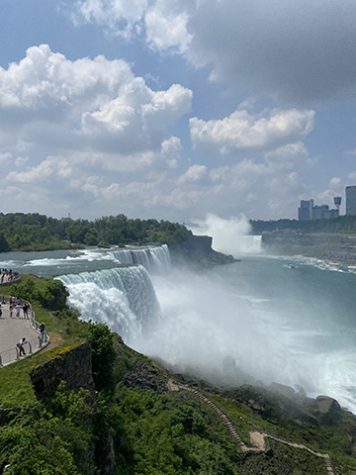 As Hailey Reichel, '25, said, "I like having a break from school work and the same thing over and over again." Hailey spent the summer at home and with friends, except when she took a day-long trip to Chicago.
 Freshman Emma Huseman's favorite thing about summer vacation is, "Not having to worry about school." Emma spent time with friends and watched TV over summer.
No matter what students end up doing, summer is always a great time to unwind from school. And one great way to unwind is to go on a vacation.
Kelsey Rodham, '25, says her favorite things about vacation are "Seeing new things and spending time with family." Kelsey went to Niagara Falls for the first week of summer. 
Helena Sinton, '25, went to Cincinnati, Ohio for the second week of July. She likes family vacations because "I can just take it easy and I don't have to work too hard." 
One thing about vacations, though, is the long drives and flights.
Rodham thought the drive wasn't all that bad because she "played license plate games." Kelsey also visited all of the football stadiums on the way to Niagara Falls during her drive. Sinton said, "I listened to music, and I tried to enjoy the scenery."
On the other hand, Isabella Park, '25, wasn't bothered by the long flight to Texas to see family at the end of July. "I didn't think that flying was hard because I am very used to flying and travelling," said Isabella.
Then there are those little experiences. Reichel said that over summer, "I went on my first roller coaster." Hailey rode the roller coaster during her visit to Chicago. Rodham said, "Our engine broke down," on the way to Niagara Falls.
Whatever you do or wherever you go, summer is always a time to relax, unwind, and have a little fun.
Leave a Comment