Working hard and playing it safe, show choir style
One of the biggest questions throughout Wahlert is whether school activities will be able to take place like normal or not. Many activities outside of school have been shut down because of Covid-19, but school activities are acceptable  with many restrictions. 
For instance, masks are required at all times when there are more than 25 people indoors, and everyone should do their best to remain socially distant. This certainly has an effect on many students in show choir, and it has some worried about their competition season. 
Michelle Carpenter, '21, said, "The biggest challenge this year is singing and dancing in masks. Show choir is already very physically demanding and wearing a mask can sometimes make it harder to breathe. Obviously, we will do it for the safety of each other, but run-throughs of our show are increasingly difficult." 
Abby Wagner, '21, and Ella Schmidt, '21, agreed that the biggest challenge is finding a way to sing and dance while wearing a mask. "I am always gasping for air by the time the second number is over without a mask on, so the added air restriction is really challenging," said Wagner. 
Not only is it hard to sing and dance (and breathe) this year, but it is also harder to hear everyone singing. Wagner says, "The masks have invented a new barrier that's hard to overcome. It's only with an effort from every team member that we can overcome these inconveniences while still being safe and abiding by protocol." 
Schmidt says she is working around these restrictions by making them a habit. With in-person school, it has already become very normal for her to wear a mask and sanitize throughout the day. "We are all making sure to sanitize everything we touch, only sing for short periods of time, and keep our masks on unless we are getting a drink of water."
Though live competitions are in question, students would still love to perform for their family and friends if they have the chance. 
Carpenter says, "I just hope we can actually perform and have a competition season. Competing is the best part of the season, so I hope we can do it at least once, especially for our senior year."
Seniors hope to perform one last time, as they have been dreaming of those moments  for years. Currently, they are practicing as they normally would, just with masks on, and staying hopeful. They strive to make every practice count, enjoy what they have been given, and look past the struggles and Covid-19 restrictions.
About the Writer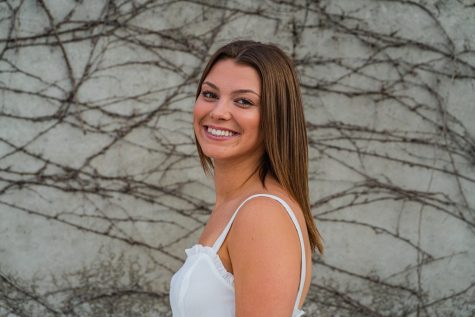 Sophia Wagner, Reporter
Sophia Wagner is a senior at Wahlert Catholic High School at the age of 17. She enjoys ballet and has been in it since she was 6 years old. She also enjoys...