Don't let anxiety rule your life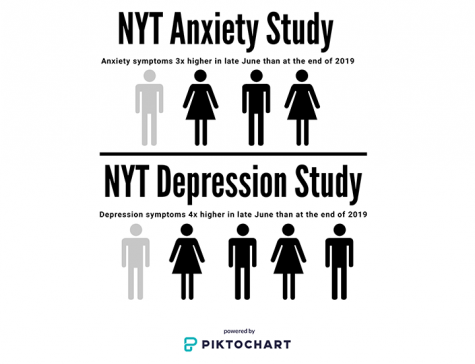 Covid-19 has quarantined the world; it's canceled sports seasons, school, family gatherings, and much more. It has disrupted lives and taken a huge toll on many students' and adults' mental health.
The New York Times article "Young Adults Report Rising Levels of Anxiety and Depression in Pandemic" reports, "In the online survey completed by some 5,400 people in late June, the prevalence of anxiety symptoms was three times as high as those reported in the second quarter of 2019, and depression was four times as high."
Rising levels of anxiety and depression are likely attributed to the uncertainty and pressure of the pandemic. Biology teacher, Mr. Peter Scott, leader of the mental health-focused Yellow Umbrellas Club, finds it important to do something for yourself in unusual circumstances.
Scott said, "I usually hear a very stereotypical response, like 'sleep more, exercise, and eat well,' but that doesn't work for everyone. Depression robs you entirely of your motivation, which makes those types of self-care impossible."
One thing that Scott has done for his students is to allow for routine mask breaks. Not only are they a nice break from constantly wearing a mask, but he says the fresh air "provides a good boost of endorphins and a dopamine reset."
Similarly, Ms. Bailey Petersen, social studies teacher, finds that both her and her students have struggled with the changes. Petersen said, "The ability to touch your friends is big for many students. It takes a toll on how you relate to others, which is a huge part of high school. It's also hard not to have things to look forward to because of the uncertainty, so I try to tell my students to try to pursue one thing that is just to make you happy."
For one junior, that one thing is journaling. Journaling is a new habit that the student has picked up during the pandemic. It allows them to get everything off their chest, knowing no one else will see it.
The junior said, "I struggle with the uncertainty of not knowing what is going to happen next or when this is going to end. I worry that it could be affecting my relationships with people or even ruin my high school experience. All of these worries can really get in my head."
Although Covid has had a huge effect on the lives and mental health of many, there are many ways to support one another and cope. Something as simple as a five-minute meditation, said Mr. Scott, can make a huge difference in your mental state. As recommended by many, try finding just one thing for yourself!
Leave a Comment
About the Contributor
Jamie Vondra, Editor
Jamie Vondra is a senior at Wahlert and an editor on The Gleaner. Vondra is involved in volleyball, bowling, and golf at Wahlert. Jamie enjoys creating...