Standing out with creative costumes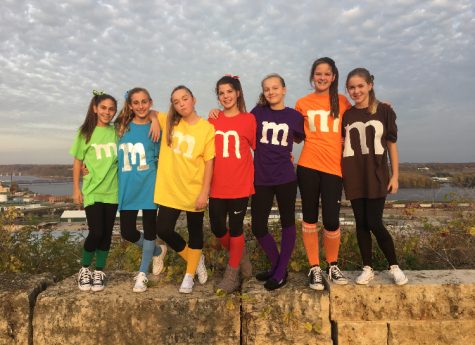 Halloween. It consists of corn mazes, pumpkin carving, and most importantly, trick or treating. Most of the time, costumes consist of the classic cat, clown or T.V. character. Those are all great options, but there are many other unique costumes. Here are a few ideas for unique costumes, worn by students.
During middle school, more specifically in seventh grade, costumes were a big deal. Addie Poppe, '22, and her friends all decided to go as M&M's.
Addie said, "We all chose different colored shirts, each color representing a different colored M&M. We then drew or painted the logo on."
Another group costume that year involved Caroline Slaght, '22, and her friends. They decided to go as glow-in-the-dark stick figures. To achieve this costume, they dressed in all black, then taped glow sticks on their body in the shape of a stick figure.
One of the most unique costume ideas came from Gavin Hamilton, '20. "One year, I went as big baby." This costume is exactly as it sounds. Hamilton, as many students know, is 6"9, which is where the aspect of big comes in. Then, he put a baby mask on to complete the look. So that year, Gavin was not just big, he was a big baby.
There are many other unique costume ideas, such as when Anna Sigwarth, '22, became Dunkin Donut. She created this look by wearing a basketball jersey and a donut pool float.
Klara Strand and Sophia King, '20, were T-bo from iCarly. To accomplish the resemblance, they wore oversized orange t-shirts, bandanas, and, of course, they carried bagels on a stick.
Finally, a personal idea and favorite would be Bob Ross. Anyone can complete this look by wearing a blue shirt, jeans, and a nice afro. That costume would really bring out some artistic abilities this Halloween season.
About the Writer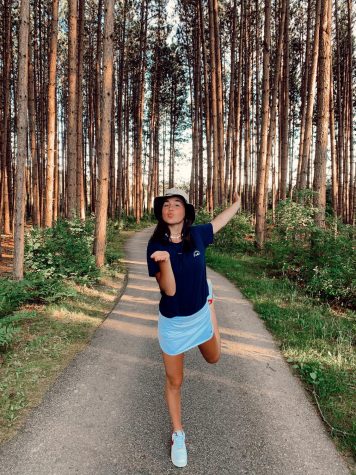 Claire Walker, Reporter
Claire Walker is a second-year staff member of the Gleaner. She is involved in volleyball and tennis, but enjoys skiing in her free time. Claires favorite...