Play season coming into full swing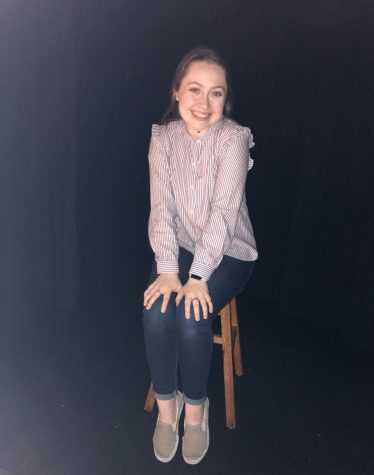 To start off the 2018-19 theater season, actors from all grades will be taking the stage. In a span of two months, a fall play, a musical and four one-act plays will be put on in the R.C. & Celeste Wahlert Theater.
For some, it will be their first fall production, and for others, it may be their last. This year's fall productions range from very serious to comical, so there is a show for everyone. To kick off the theater season, the cast of the musical Songs For A New World took the spotlight Nov. 16-18.
Songs For A New World is about one moment. It's about hitting the wall and having to make a choice, take a stand, or turn around and go back. The songs are the stories and characters of today. This moving collection of powerful songs examines life, love and the choices that we make.
"Songs For A New World challenged me to dig and think about the songs that I'm singing because there is no specific plot to this show," Katie Link, '19, said. "Ms. Plumley had us dig deep into the songs and figure out what we're trying to say and what we're trying to portray through the song."
Although Songs For A New World has passed, there are two more opportunities to see Wahlert's talent. The following production of the fall season is the play Night Mother.
In December, Wahlert will put on the play, Night Mother. Night Mother is about a woman named Jessie Cates. Jessie Cates, an unemployed epileptic with a failed marriage and a deeply troubled son, tells her mother, Thelma, that she plans to take her life before the night is over. Thelma tries to convince her daughter life is worth living, but Jessie remains resolute.
"I read the script first before auditioning because I wanted to know more about the show and actually read the end. It's going to be really difficult because it's such a real thing, and it puts a lot of pressure on the people who are in it to try and portray this real thing in a way that will make an impact on people," Monica Ripley, '20, said.
Cast one of Night Mother will perform Saturday, Dec. 8, at 7  p.m. and Sunday, Dec. 9, at 2 p.m. Cast two will perform Friday, Dec. 7 at 7 p.m. and Saturday, Dec. 8 at 2  p.m. There will be a suicide panel following all of the performances that will promote starting the conversation about suicide and the struggles. It will have a combination of students, counselors and experts from the community sharing their experiences with suicide and talking about preventative measures.
Lastly, to end the fall theater season, Wahlert's Evening of Theater will feature the freshmen and sophomores in one-act plays.
Evening of Theater is four one-act plays put into one performance and is directed by Wahlert upperclassmen. In Evening of Theater, we start off with the one-act play "10 Ways To Survive A Zombie Apocalypse," directed by Jacob Nuti, '19, and Ripley. The second one-act, "On The Dock," is written and directed by Lizzie Fitzsimmons, '19, and Isabel Shubatt, '19.
Third, directors Link and Audrey Heying, '19, will put on "10 Reasons We Should Have Stayed Home Sick Today." And finally, Evening of Theater will finish with "The Customer is Always Wrong," directed by Eva Wahlert, '20, and Gwyneth McSperrin, '19.
Evening of Theater will be performed Friday and Saturday, Dec. 14 and 15 at 7 p.m.
Until the show dates, the casts and directors of these productions will be working hard to deliver quality shows for all to enjoy.