Soccer teams lace up for a new season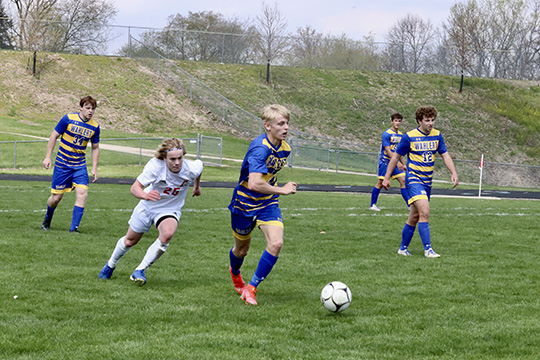 With the soccer season right around the corner, players and fans are anxious to get back on the field. The men's soccer team is coming off a 9-9 record and a trip to the regional playoffs. 
JP Weber, '23, is ready and anxiously awaiting the new season. 
"We've got a new, energetic coach, a new formation,
and a new team," Weber said. "It should be fun to watch." 
That new energetic new head coach is Cameron Scott. He will look to continue the Eagles' success from the previous season. 
Underclassmen are looking to step up this season with the loss of Tyler Dodds, Eli Shubatt, Nathan Donavan, and Ian Takes, '21.
"We have a promising group of underclassmen including Owen and Alex Shade, Nathan Schiesel, Jackson Weber, and Walter Freund," said Weber. 
The Golden Eagles are striving to win a state championship for the first time since 2012 after a promising finish last season. 
"I think we have a good shot at state this year," said Alex Eisbach, '23. "We have to be optimistic; we're going to go out there and play our hardest wherever we go." 
As for the women's team, they are optimistic for the season after their state tournament appearance last season. They lost a hard-fought game to Nevada in the quarter-finals, but are ready to return with experienced players and a new perspective. 
"I am very confident we have a shot at state," said Liliana Marrero-O'Hea, '23. "Last year, many of our players hadn't played soccer in a while, but we still had great chemistry and great coaching." 
It's safe to say it should be an exciting season for both the women's and men's teams. They showed a lot of potential last season, and the players are confident that they can have success this upcoming season. 
Leave a Comment