Freshmen stepping up to expectations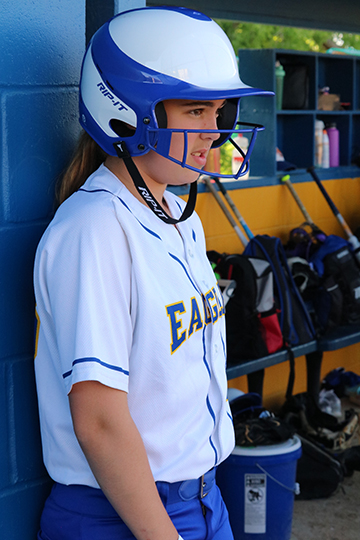 Hang on for a minute...we're trying to find some more stories you might like.
Far away games, long practices, and late nights are all a part of playing a varsity sport. Only some, however, are lucky enough to experience these things as freshmen. Natalie Kelzer, '22, had the privilege of playing varsity softball this past summer.
"Participating in a varsity sport was really exciting," Kelzer explained. "I got to play with talented upperclassmen and got to know them on another level."
Playing a varsity sport is a huge commitment. Balancing school work with a sport takes dedication and lots of time. However, having supportive teammates and role models to look up to can make the stress load easier.
"The upperclassmen were welcoming and encouraging," Kelzer continued. "They gave me rides to team dinners and also helped me learn new drills." Katie Krapfl, '19, was one upperclassman who played softball with Kelzer this past summer.
"As a freshman, I was always intimidated by the upperclassmen," Krapfl stated. "Now that I am a senior, I really try to make the freshmen feel included and comfortable in the team environment."
While the practice and time management aspect can be stressful, competing against older athletes is also a challenge. Alana Duggan, '22, was one of the few freshmen that ran varsity cross country this season.  
"Running against seniors was frightening," Duggan stated. "I worked really hard to become better and learned a lot along the way."
While many memories are made on the field, court, water, or track, some of the best memories are made during the free time of these athletes.
"Looking back, my favorite part of softball season was spending time with the team after practices and games," Kelzer stated. "My teammates were always super helpful to me on and off the field, and I can't wait for many more seasons to come."