Cross Country teams prepare for Districts
Runners enjoy comradery as well as runner's high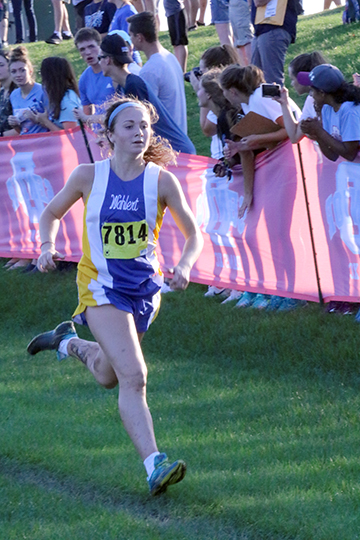 Hang on for a minute...we're trying to find some more stories you might like.
A successful season for the boys' and girls' cross country teams is coming to a close. The girls' team is currently ranked first in the state with the boys' team ranked seventh. Districts will be next week, Oct. 18th, and both teams believe they will most likely qualify for state.
"If the girls perform how they have been performing, they should be able to get to state," stated girls' cross country coach, Ms. Cynthia Wagner.
For students who aren't in cross country, it may seem like an individual sport, but there is a big emphasis on team bonding. The teams have a team dinner the night before each meet, which is one of the best parts of cross country for some runners.
"My favorite part of cross country are the team bonding and popsicle Fridays," says Aunna Huseman, '20. "On Fridays we do a lot of hill workouts, so it's always a great way to end practice."
Cross country is also a very rewarding sport for both coaches and runners. The majority of runners found the most gratifying part to be the runner's high after a race.
"For me, the most rewarding part of coaching is when people are proud of their own success," Mr. Tim Berning, boys' cross country coach, explains. "Now, that doesn't necessarily mean winning the race, but seeing the runners achieve their goals."
Not only is cross country physically taxing, it is also a mental game. Some runners enjoy this side of running, while others find it to be the most difficult part.
Joe Chapman, '22, enjoys the mental challenge. "It clears your mind. When you go on six or eight mile runs, you're not really thinking about anything else besides running."
Runners join the cross country teams for many reasons. Whether it be their passion for running, persuasion from friends or family, or simply to get in shape, there are not many runners that regret joining the tight-knit team.