After Districts, Bowling Teams look to Future
This past Tuesday, both the men's and women's bowling teams competed in the district bowling meet at Cherry Lanes. The Golden Eagles had very tough competition within their district with winning teams from West Delaware (men's) and Camanche (women's) being legit state title contenders.
While no Wahlert teams or individuals qualified for the state tournament, there were some brights spots throughout the day. The women's team placed 4th of seven teams.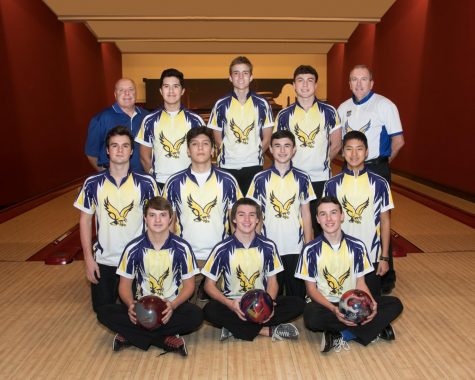 "Going into districts, we knew we didn't have that much of a chance to go as a team, but we were still pumped up and had a great time either way. Going into the team games we thought we had an outside chance, but unfortunately, we didn't bowl well enough," said Vanessa Wareham, '19.
Despite struggles this year, the women's team returns its core group of bowlers that include Wareham, Mary Edwards, '19, Jena Kluesner, '19, and newcomer Lola Grap, '21. Edwards was close to qualifying with a 361 series.
"I was pleased with my individual placement of 4th, and I'm proud of our (team's) overall effort," said Edwards.
The men's team also placed 4th. Similarly to the women's team, they will return their core bowlers next year including David Hughes, Sam Ambrosy, Mitchell Walz, '19, and Connor Beutin, '21. Hughes, whose series of 380 fell short of state qualifying, spoke of his new passion for bowling (He only started competing last year.) and next season's prospects.
"I've really enjoyed getting better and learning about the game. What started as a joke (from getting cut from basketball) has grown into a lifelong deal," said Hughes. "As for districts, we had an off day, but we weren't exactly the favorites going in, so it was just a good learning experience."
Sam Ambrosy had a str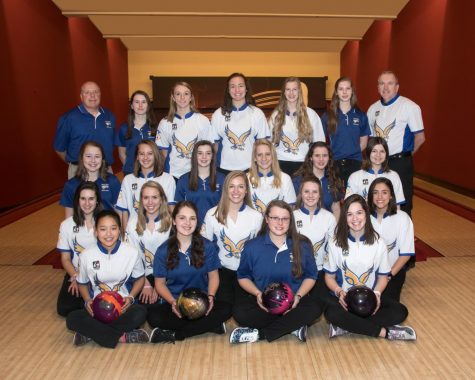 ong showing with a 403 series, and was 6th individually, just missing state. Ambrosy was within striking distance of qualifying, but was critical of his performance late in the second game.
"I was on pace for a 240 through six frames, which would've qualified me for state, but at the 7th and 8th frame, I had back-to-back splits, which basically put me out of the running," said Ambrosy.
While the scores at districts weren't quite what the teams were hoping, the Golden Eagles certainly had their share of bright spots throughout the year. The men recently scored a personal best and defeated a very good Kennedy team.
Overall, both the men and women's teams look to make a push next year with senior leadership and younger talent peaking at the right time. Many Wahlert bowlers have just recently picked up the sport competitively, but have seen rapid improvement.
Hughes feels strongly about next year. "For the future, we have three incoming freshmen with a lot of experience so we should pick up right where we left off. The future of Wahlert Bowling is certainly very bright," said Hughes.