Boys' basketball clinch third straight state tournament appearance with win over Waverly-Shell Rock
The Eagles know they have a huge target on their backs with two consecutive state championships. And with a shot for their third consecutive state tournament appearance and 3-peat on the line Tuesday night, they knew Waverly-Shell Rock would come ready to play. "We always know we are going to get everyone's best shot," senior Cordell Pemsl said earlier in the season. "Everyone wants to beat Wahlert."
Pemsl started the Eagles off last night with a quick layup before Riley Till rattled  off four straight points to get the Eagles an early lead.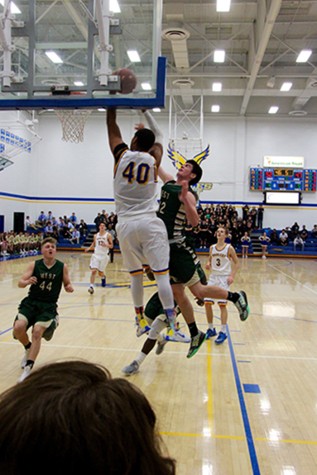 For Waverly Shell-Rock, Austin Phyfe led the charge as the Eagles couldn't find an answer for him early. At the half, the Eagles led 26-21, but Pemsl and Sage Maiers had two and three fouls, respectively.
Till and David Wedewer led off the second half with layups to quickly extend the Eagles' lead to 9 early in the third quarter. As the Eagles seemed poised to pull away, Till and Maiers collided on a rebound, resulting in a Phyfe layup.
With the Eagles' in foul trouble, Waverly attacked inside and finished the third quarter on a 9to 1run.
With under six minutes to play, Waverly took its first lead since the first quarter at 40-39. After two straight Eagle turnovers, Waverly led 42-39 with three minutes to play.
With the game and the shot at history on the line, the Eagles stepped up forcing turnovers and making free throws to end the game on a 9-1 run and clinch school's 26th state tournament appearance and keep the goal of the 3-peat alive.
In a couple weeks, March Madness will begin in college basketball, and the only thing that will matter is getting the job done. "Survive and advance," the analysts will say.
That's exactly what the Eagles did on Tuesday night, the day before March begins; they survived and advanced to the state tournament.