New chapter or same story?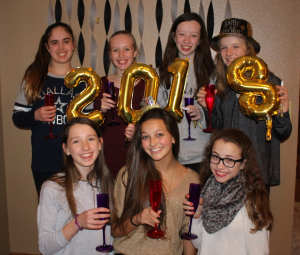 This upcoming New Year's, people will tell themselves, "I'm going to eat healthier," or "I'm going to get more exercise." Although many make New Year's resolutions, does anybody really follow through with them?
Ms. Barbara Ressler's least favorite holiday is New Year's, but she is still a believer in the resolutions that come with it.
"I don't think resolutions are a sham. I think they're very needed," says Ressler. "If you set it and have parameters, you'll usually get to it."
Ressler explains that research shows if your resolution is reasonable and specific, you have a much greater chance of actually achieving it, unlike the other 80 percent of people.
In contrast, New Year's is one of Kimberly Graff's favorite holidays. Although she is a fan of the holiday itself, she is not a big believer in resolutions, like many others around school.
"I think people say they're going to do something for their resolution and then never actually get to it," Graff, '22, says.
Graff makes a point saying that the majority of people never get to their resolutions. This belief validates the research mentioned by Ressler.
The main issue is that most people make their resolutions very broad, such as, "I will lose weight this year." If resolutions are more specific, such as, "I will lose weight by running on the treadmill for half an hour at least four times a week," then the resolutions are more likely to be achieved.
About the Writer
Jamie Vondra, Reporter
Jamie Vondra is a senior at Wahlert and an editor on The Gleaner. Vondra is involved in volleyball, bowling, and golf at Wahlert. Jamie enjoys creating...