The music behind the champions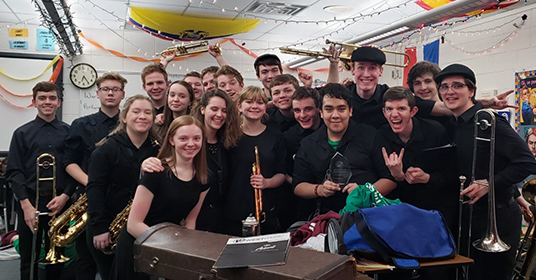 Feb. 8th was a great day for the Wahlert show choir program. During the competition at Bettendorf High School, Impulse won many awards including best vocals, best choreography, best crew, Grand Champions, and best band. 
Impact also won Grand Champions in the prep division and made night finals for the first time in Wahlert show choir history! These groups are off to a great start to their season, but they wouldn't have any music to dance or sing to without the Show Band.
The Show Band plays instruments behind the Impulse and Impact show choirs. This year, Wahlert's Show Band consists of a rhythm section, a horn section, and an electronics section. 
Every member of the Show Band is considered to be skilled at their instrument, which helps the show choir keep tempo and win awards. 
Gavin Hamilton, '20, is the Show Band's bassist. "Everyone in Show Band is very talented, and it's essential in order to have a good balance between the whole band," says Hamilton. 
At Bettendorf, the Show Band made Wahlert history by helping the show choir get a sweep. A sweep in show choir is where one specific group wins all the big awards available at a competition. The Wahlert show choir hasn't had a sweep in six years because one of the big awards includes best band.
It has been a few years since Wahlert got a best band award at a show choir competition. It's one of the harder awards to get since Wahlert's band hasn't been the biggest band. Many of the show choir groups that Wahlert competes against have bands that are really big. 
However, this year, since the Concert Band has so many band members, many of the students in Concert Band also joined Show Band. When compared to Concert Band, "The Show Band experience moves at a faster pace," says Johnny Freund, '22, who is one of the keyboard players in the Show Band.
Having a big band isn't all it takes to win best band. Brady McSperrin, Impulse drummer and Impact trombonist, '21, says "There are more people, more enthusiasm, new ideas, and fresh optimism" this season. 
The Show Band works hard to get the music right. They start practicing by themselves around the month of November, and once they learn the music, they join with the show choir and practice with them every Monday and Thursday for four hours.
The Show Band will be losing their lead guitarist (Tony Medellin, '20), bassist (Gavin Hamilton, '20), and trumpet player (Sara Freund, '20) after this season. 
However, when some Show Band members graduate, new ones come in from Mazzucchelli. The Show Band will continue to work hard to help the Wahlert show choir win more awards. Even though the Show Band will be losing some key players after this season, the future of the Show Band is still very bright.