Wahlert production of "Bonanza" coming to you!
There's another theatre production coming to Wahlert! This time around, it's a fundraiser for Wahlert's theatre arts program. "Bonanza," the production, will use its funds for the spring musical, along with trips that the thespians go on, like the Thespian Festival.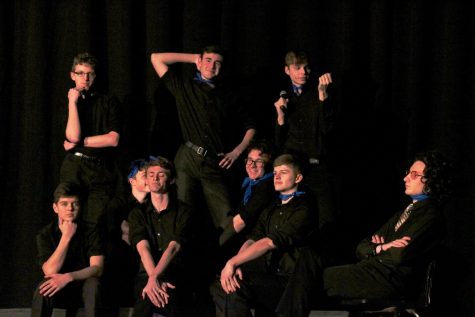 Anyone from ninth to twelfth grade could audition for this series of songs, and performers are involved in multiple acts.
Nadine Mueller, '23, is in three different songs. She is excited to be in "It Sucks to be Me" from "Avenue Q," "Freak Flag" from "Shrek," and "Live in Living Color" from "Catch Me if You Can." 
Since Mueller is a freshman, she has not had the experience of being in a cabaret before. "I wanted to do it because I'm involved in theatre a lot, and I like singing, so I just auditioned for fun!" Mueller is excited to perform because she is with her friends while doing it, but also because she gets to meet new friends. 
Megan Hefel, '23, is also participating in "Bonanza." Hefel is in the songs "Freak Flag," "He's Not Dead Yet," and "It Sucks to be Me." She thinks it will be interesting to see how the Bonanza comes together with limited rehearsal time. "None of us will really know what will happen," she confesses.   
There are 14 total songs in this production. The show premieres on Nov. 15 and Nov. 16 in the Wahlert Gym at 7:30 p.m. Admission is $5 to get in, and tickets are available upon arrival.