Edging out the old
Do you ever feel like the normal classroom isn't right for you? That the traditional way of teaching isn't the most effective? The EDGE program may be the solution for you.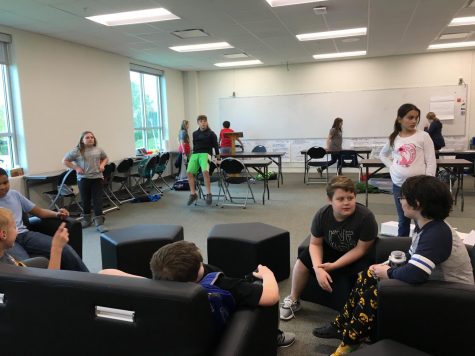 The EDGE (Engage. Discern. Grow. Excel) Program was recently introduced to Mazzuchelli this year, and they are the first middle school in Iowa to participate. Twenty-five sixth graders now have the opportunity to test out this new learning platform.
"In essence, it's an individual education plan. A student works at the pace they feel most comfortable with, where they feel challenged, but not to the point that they get frustrated," said Ron Meyers, principal.
This new platform was inspired by the Summit Learning program in California. Over the summer, a few staff members from both Mazzuchelli and Wahlert went to California to learn more about it. Schools in the Summit Learning system use the program for free and are encouraged to make it unique to each school.
"Students learn to own and direct their own learning. Lifelong learning is a must," said Ms. Barbara Ressler, English teacher. "One of the best assets we can offer students is growing their intrinsic motivation. I believe the engaging nature of this model does so."
There are two main components to the students' overall grade in the EDGE program. The first part is personalized learning time done on the computer. During that time, students individually learn the content in each section through articles, powerpoints, Quizlets, etc. Next, they take an assessment in order to move on to the next part. The second component is project time, which focuses on developing skills the students will need later in life.
"EDGE is a blended learning program that capitalizes on personal learning, group and classroom learning, as well as mentoring. All of those put together make the program unique," said Lisa Krapfl, instructional coach.
On top of taking the EDGE program classes, students also have the opportunity to take classes with the rest of their peers. They can still be a part of extracurricular activities and take elective classes.
"We're choosing to slowly grow into the program to make sure that we aren't doing something that's detrimental to the programming we currently have," said Mr. Meyers.
Next year, EDGE will grow to include sixth, seventh, and ninth graders. Within five years, students in grades six through twelve will have the chance be a part of EDGE. If there are any questions about the EDGE Program, contact Mrs. Krapfl or Mr. Meyers.