How can you make a difference this Earth Day?
Hang on for a minute...we're trying to find some more stories you might like.
Spring has arrived, and soon we will see budding flowers, green trees, and bright sunny skies stretching into evening. Along with the pleasant weather comes Earth Day on April 22. Earth Day brings awareness to the state of the environment, and many people use this day to think about how they can make a difference.
One person trying to raise awareness t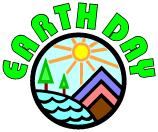 o the current global situation is Mrs. Trini Olivera, Spanish teacher. Olivera recently started researching history and the environment, which got her thinking about the world we live in.
"I've been studying history more, and this has shown me that we judge people in the past for making careless mistakes," Olivera stated. "I believe that in many years, the generations to come will look back on how we treat the environment today with the same outlook we have on people in history. We won't see this, but our grandchildren will," said Olivera.
Olivera wants to make a difference, and her first step is discussing the environment in her classes. She also tries to make an individual change by limiting certain products.
"As a teacher, I'm trying to talk to my students so they can engage in the current environmental situation," said Olivera. "Personally I'm trying to buy less plastic in stores, which is turning out to be very difficult."
This Earth Day, it's important to be conscious of our effects on the environment. Olivera encourages each student to start small.
"I think the best thing to do as a consumer is to try your best to buy less plastic from companies," Olivera suggested. "If we continue to buy their plastic products, they will not change. However, if we refuse to use the plastic products they offer, companies will have to change."
Students can choose to use less plastic with minor changes to everyday behaviors. One easy swap is to replace plastic bags with reusable shopping bags. Another sustainable action is to avoid buying single-use plastic water bottles and using a reusable bottle instead. Students can also plan ahead when on a coffee run and commit to using reusable straws and cups rather than contributing to more plastic waste.
Olivera encourages others to be aware of the effects they have on the environment. Future generations will judge our actions today. We have the power to begin caring for the earth with small, everyday changes. Earth Day is an opportunity to reflect on the choices we make and how we can protect our one Earth.