Same name, but different faces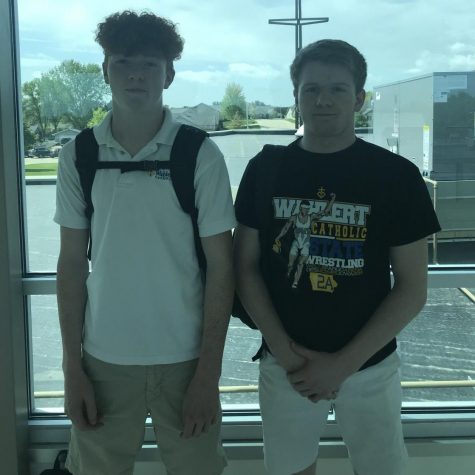 Some of you know the Jimmy McDermotts as Jimmy(1) and Jimmy(2), or have heard of two Abby Wagners walking the halls of Wahlert Catholic. Is there anything similar between them? Or are they completely opposite strangers with nothing in common?
The two Jimmy McDermotts at Wahlert are actually closer than one may think. They are first cousins.
"I think it's cool that Jimmy and I have the same name because we were given this name in honor of our uncle," said Jimmy Mcdermott, '21 (Jimmy 1 with red hair).
Both Jimmy's were named after their uncle who passed away. Their names are both James McDermott and the two even share the same nickname, "Jimbo." However, they have different middle names.
"Sometimes I get marked tardy or get certain points marked wrong in class because of the other Jimmy," said Jimmy  Mcdermott, '21,(Jimmy 1).
The names Jimmy(1) and Jimmy(2) started back in middle school with the sophomore class. Jimmy, the one with freckles and orange hair, came to Mazzuchelli shortly before the other. So, the sophomore class numbered them by who came first. This number system stuck and currently the sophomore class continues to differentiate the Jimmy's in this way.
Besides the McDermotts sharing the same names, there are two other name-sharing students at Wahlert, but are they just as much alike as the Jimmy's are?
"I don't like having another Abby Wagner walking the halls because we were made fun of during grade school for having the same name," laughed Abby Wagner, '21.
During show choir season, things can be confusing for the Abbys, since they are both very involved with show choir. "It gets really hard during show choir season when trying to figure out which Abby is which, and who to listen to when you're called on," said Abby Wagner, '20.
"I've gotten a few passes sent down from the office by accident before, and one time I even left school when I was not supposed to because they gave me her pass," said Wagner, '21.
Despite their battle between wanting to be the only Abby Wagner at school, and hating having such a popular name, they do share some things in common. Both Wagners also share a nickname of "Abs."
Having the same name in such a small community can get confusing and difficult, but both Jimmy's and Abby's do a great job at getting along with their "other half."